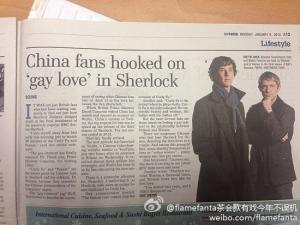 The BBC publishes an article describing the interesting phenomenon of Chinese female fans being crazy about the "romantic relationship" between Sherlock Holmes and Dr John Watson. [weibo.com]
The new episode of the BBC's
Sherlock
was released on January 1. A few days later, the BBC published an article describing the interesting phenomenon of Chinese female fans being crazy about the "romantic relationship" between Sherlock and Watson. The term "Fu Nv" has again become the center of attention and the topic of "Chinese Fu Nv" has become No.1 hot topic on Sina Weibo, China's Twitter, and has had nearly 4 million hits.
"Fu Nv" or its original Japanese name "Fujoshi" (literally means "rotten women") is a self-mockingly pejorative Japanese term for female fans of manga (Japanese comics) and novels that feature romantic relationships between men. "Fu Nv" enjoy imagining what it would be like if the male characters from manga and anime, and occasionally real-life male performers as well, loved each other. The label encompasses fans of the boys love genre itself, as well as the related manga, anime, and video games that have appeared as the market for such works has developed.
The term has become popular in China in recent years. Young women fantasize about beautiful men being in love and proudly label themselves "Fu Nv". It has also extended from just men in manga and anime to real-life male performers in TV drama and movies.
BBC's hit TV drama
Sherlock
, a modern version of Conan Doyle's classic detective stories, has lit up Chinese "Fu Nv" fans' enthusiasm in imagining the relationship between Sherlock and John. They have described the "love" between these two characters as "Sherlock tortures Watson a thousand times and Watson loves him like his first love".
A netizen wrote "A girl from my office says the only reason she watches this show is that she likes the way Sherlock looks at Watson."
"After Dama, Fu Nv is hot now." Many netizens find it amusing.

Despite the fact that Fu Nv are mainly imagining the romantic relationship between men in unrealistic scenarios, it is an indirect implication that these young women can or are at least willing to accept homosexuality. They do not view romantic relationships between men as something against nature or wrong, they perceive it as something beautiful, romantic and even promote it.

Acceptance of homosexuality is a hot issue in the world today. It is worth noting that in countries where responses are noticeably different by gender, women are far more accepting of homosexuality than men, suggested by many social science studies. The rise of groups like "Fu Nv", in a way, reflects how young women in China are changing their opinions on such matters.

Furthermore, as the terms like "Fu Nv" become popular online, many people are starting to pay attention to homosexuality and realize that there are people who are comfortable in this kind of relationship. The existence of a group of people who are acceptable of homosexuality (even only homosexuality as imaginary) is a big improvement.

(Source: ent.sina.com.cn/Translated and edited by womenofchina.cn)