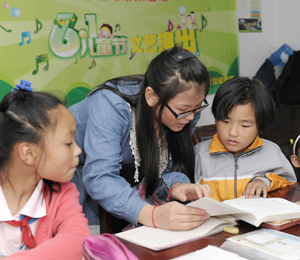 Many cities in China have established, to create a favorable environment for children's development, the "Half-past-four Schools". [Women of China English Monthly]

Many cities in China have established, to create a favorable environment for children's development, the "Half-past-four Schools," which are safe, free-of-charge centers in communities where pupils, whose classes are over at 4:30 pm every day, can study and/or participate in recreational and sports activities. The "schools" are also a blessing for parents, especially those who cannot leave work early enough to look after their children. Several similar organizations, such as "Children's Reading Club," "Happy School" and "Shangzhi School," have also been established throughout the country.

The Origins

Younger primary school students in Shenzhen, in South China's Guangdong Province, usually leave school around 4:30 pm every day. However, most of their parents are unable to leave work before 5:30 pm. Many parents worry about their children's safety during the "vacuum hours" (between the time their kids leave school and the time they pick them up). To solve the problem, Shenzhen's Luohu District, in 2007, took the lead in establishing "Students' Study Rooms" in various communities. The study rooms were well received by students and parents alike.

In 2009, the Office of the Shenzhen Guidance Commission for Building Spiritual Civilization of the Communist Party of China (CPC) decided, based on Luohu's experience, to launch the pilot project of "Half-past-four Schools" in 12 of Shenzhen's communities, including Tongxinling Community, in Futian District, and Sunxi Community, in Luohu District.

Since then, "Half-past-four Schools" have become popular throughout the country. The "schools" are ideal places for children to study after classes, and/or increase knowledge — about literature, art, public safety and social etiquette — through various activities.

Children's Reading Club

Imagine that it is a few minutes past 4:30 pm, and many children walk, in threes or fours, into the "large classroom." After a while, the classroom is filled; some of the children are doing their homework, others are reading books, and some are discussing problems with their little pals. A young woman, the "teacher," who looks like a university student, paces to and fro, all the while she watches the children. She stops, from time to time, mainly to reply to students' questions about their homework. A relaxed, pleasant atmosphere permeates the room.

That is a typical day at the "Children's Reading Club" in Binhu Heyuan Community, in Hefei, capital of East China's Anhui Province. The children are primary school pupils who live in the community. At present, more than 10,000 residents live in the community. Most of the adult residents, who moved back in late 2009 after the new buildings were completed, do manual work at plants or enterprises in the neighborhood. Before the community's neighborhood committee established the "Children's Reading Club," in September 2010, many parents, who were too busy to take care of their children, had to leave their kids "running wild" after school.

Many local organizations, such as the community's Party (CPC) and League (Communist Youth League) branches, and the local women's federation, have supported the club. Now, the club, which covers more than 150 square meters, is equipped with 100-plus tables and chairs and modern multimedia teaching equipment, including computers and videos.

"Our club offers children various services, such as reading and psychological counseling," says Mao Hong, member of the community's Party committee. "More than 120 children enter their names for the club every semester. About 60 kids, on average, come to the club after school every day. They do their homework and/or read books in the reading room. Our club also offers children extracurricular courses on reading, singing and dancing."

In addition to seven community workers, 39 volunteers, most of whom are students from the education department of Hefei University and Hefei University of Technology, provide various services, such as helping children with their studies and offering psychological counseling. The young "teachers," who work enthusiastically with the children, have earned the kids' respect.

"In addition to helping the children with their studies, the club often organizes various activities, such as visits to science and art museums and military camps, to increase their knowledge and enrich their lives," says Zhang Huan, president of the community's women's federation. "The club also holds a parents' meeting every quarter, to discuss the kids' progress and problems in the club, and to listen to parents' suggestions on how to improve the club's work … Our community also established a 'parents' school,' which offers … parents opportunities to participate in the community's public-welfare activities, to cultivate their sense of responsibility within our community."

Xu Qinghua, president of the women's federation of Hefei's Baohe District, has been quoted as saying that the district plans to establish, between 2011-2014, some 40 extracurricular activity centers for children, such as the reading club. So far, the district has built 25 centers.

Binhu Kangyuan Community, which is close to Binhu Heyuan Community, is the largest residential community in Hefei. Many local children, who study in primary schools, go to "Shangzhi School," in the community, to study and/or participate in after-school recreational and sports activities.

"The 'Shangzhi School' is really helpful," says Sun Huizhen, an elderly resident in her late 60s. "Both my son and daughter-in-law return home, after work, at about 7 pm every day. Before the 'school' was built, my granddaughter, Nannan (the girl's nickname), often played outdoors or watched TV after she returned home from school. Now, our little girl does her homework, and sings and dances, at the "school" after she completes her classes at school."