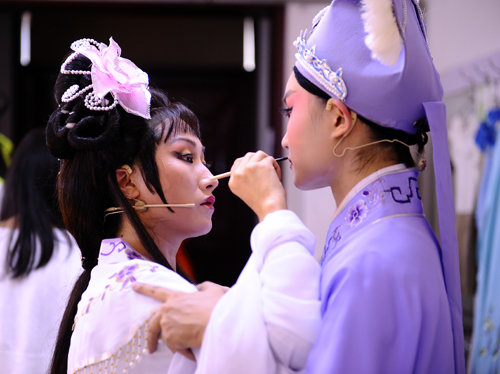 For years, a group of women have performed Shaoxing opera at least once every two months. The fact that all of the performers were women — especially more so that they were amateurs — made the performance unique. [Women of China English Monthly/Zhang Jiamin]
There could be no mistaking that something special was taking place during the afternoon of September 14. Why? A dedicated group of women, all aficionados of Shaoxing opera, were performing an opera in Shijingshan District's cultural activity center (in western Beijing) to mark Mid-Autumn Festival (which was celebrated on September 19). Although the afternoon was special, it was not unique; for years, the women have performed Shaoxing opera at least once every two months. The fact that all of the performers were women — especially more so that they were amateurs — made the performance unique.
The September 14 performance began at 2 pm. Most of the performers arrived at the center early that morning so they would have plenty of time to check the props, apply their makeup and get into their costumes. The women have participated in several opera performances during the past nine years; yet, they have considered each performance to be their debut. During each performance, the women feel excited, and they always spare no effort when they are on stage.
The women are members of Beijing Mingyue Community, a Shaoxing opera performance group. The group was founded nine years ago. Although the women come from different professional backgrounds and different regions of China, they all share an interest in Shaoxing opera. Every Sunday, they get together, for at least half a day, to rehearse. They perform the operas, for free, to entertain families in neighboring communities.
Dream Realized
Li Han, the group's founder, is the eldest member. She was born in southern China's Hunan Province in 1977. Li moved to Beijing, in 1995, to attend Beijing University of Posts and Telecommunications. She settled down in Beijing after her graduation.
Li developed an interest in Shaoxing opera when she was a young girl. Shaoxing opera (yue ju in Chinese) is one of the five traditional Chinese operas. Shaoxing opera originated in Sheng County, in eastern China's Zhejiang Province, during the Qing Dynasty (1644-1911). It prospered in Shanghai during the 1920s. Although Li has never received any formal Shaoxing opera training, she has studied the opera, on her own, for several years.
Li, with several female friends, with whom she shared an interest in Shaoxing opera, founded Beijing Mingyue Community in 2004. Their initial idea was to create opportunities for women who are fond of Shaoxing opera to get together and have fun. "I met those 'sisters' when we were watching opera performances. We learned how to sing and pose from professional performers," says Li.
"There was a period of time when the four or five of us gathered at Beijing's parks every weekend. Despite rainy or snowy days, we kept meeting to practice … It was all out of our passion, and we always enjoyed singing the opera together." Back then, most of their spectators were people who were walking in the park. Some people stopped to watch them perform; occasionally, a passerby would ask if he/she could join the group.
When asked about the group's name, Li said "troupe" was never a serious option. "We decided not to call it a 'tuan' (troupe), but a 'she' (community). In this way, we feel closer to the residents. In fact, many Shaoxing opera performance groups, during the old days, were called 'communities.' Mingyue is a combination of two Chinese words — 'ming,' meaning 'making sounds,' and 'yue,' standing for yue ju (Shaoxing opera)."
Li said it took some time for members of the "community" to figure out what they should be doing. "At the very beginning, it was simply about having fun together. Later, we hoped to rehearse classic plays of Shaoxing opera … We longed for the experience of performing under stage lights. Our interest gradually turned into a mission, which we wanted to fulfill together. I often said to myself, 'How interesting it would be if I could experience the joys and sorrows of other people, by performing characters in those operas," Li says.
Beijing Mingyue Community debuted in 2007; the women performed Butterfly Lovers (tragedy involving lovers Liang Shanbo and Zhu Yingtai) at Beijing Forestry University. Back then, the group could not afford to rent a professional stage, so they chose to perform on the campus. To Li's surprise, the group's debut turned out to be a huge success; more than 1,000 students watched the performance, and nobody walked out of the show. The ovation at the end of the show was an emotional experience for the performers. After, some of the students told Li they had never watched a Shaoxing opera, and that they had never expected it to be so beautiful.
"I then realized that we had chosen the right place. The students needed us to promote the charming art and culture of traditional Chinese opera. Since then, we have continued to perform at universities in Beijing. We have learned the true value of our performances," Li says.
In 2009, the group was invited to perform, on a regular basis, at the theater in Shijingshan District's cultural activity center. The center arranged either opera or drama performances, to entertain residents, during the weekends. Prior to 2009, most of the traditional Chinese operas performed at the theater originated in North China. Mingyue was the first group to perform an opera genre from South China on the center's stage. "Thanks to the support of Shijingshan's cultural activity center, our community has been able to establish a stable performance team, and to arrange our yearly performances," Li said.
Promotion
The group currently has 29 members, all of whom are women. Several Chinese who were born in the 1980s or 1990s have joined the group. Qi Yanran, 27, who was born in Chengde, in northern China's Hebei Province, is one of those women. Qi settled in Beijing in 2008. Two years ago, a colleague invited Qi to join the group.
Qi had only been interested in pop music before she met the members of the group. In fact, she had little knowledge about traditional Chinese operas, and she did not know anything about yue ju. But she was curious. At first, she had bit roles, such as playing insignificant, walk-on characters. Today, she is able to perform as the Green Snake, one of the main characters in a classic opera, Legend of the White Snake.
"Shaoxing opera is now a necessary part of my life. When I feel stress, due to my heavy workload, I listen to the opera to relax," Qi says. She thinks persistence is the reason behind her achievements. "As long as you keep making an effort, you will love this opera, and you will feel proud to perform on a stage. Many of Mingyue's members are from regions outside Beijing. After rehearsals, we like to share interesting, or disturbing, episodes in our lives in Beijing. I always feel happy to gather with my dear 'sisters'," Qi adds.
Chen Yumin, born in 1989, is one of the group's senior members. She joined the community in 2007, after she moved to Beijing to attend college. Chen's hometown is Ningbo, in Zhejiang Province (the origin of Shaoxing opera). As a child, she liked to listen to the opera, and she picked up some basic singing skills. With a postgraduate degree from the National Academy of Chinese Theatre Arts (formerly the Academy of Chinese Traditional Opera), and with a major in stage direction, Chen not only directs and acts in the operas, she also explains the plots to the other performers.
Chen had originally planned to return to her hometown after graduation, but decided to stay in Beijing and join the group. "It's so difficult for me to part from this group. Even if I eventually have to leave Beijing, I will take the spirit of Mingyue back to my hometown. Hopefully, I'll be able to set up a branch of Mingyue in Ningbo," Chen says.
Li is pleased that the group's members treat each other like family. She always tells her "sisters" that their performances are not about fame or commercial success. "We perform purely to promote the traditional opera art … Each performer wins acclaim and/or applause from the audience through her own efforts," says Li.
For the past nine years, Li has helped the group's members develop their interest in Shaoxing opera into a sense of responsibility to promote the art form. Now, the members perform — for free — seven or eight times at Shijingshan each year. "None of us is professional. We all have our full-time jobs, so we don't count on the performances to earn a living. Although our skills and abilities are limited, we are trying our best to attract more and more ordinary Chinese to enter the theater, and to watch this form of opera … Shaoxing opera is a very beautiful and charming genre; it needs just a stage — and a platform — to enter the vision of the public, especially the younger generation," Li concludes.
(Source: Women of China English Monthly October 2013 Issue)