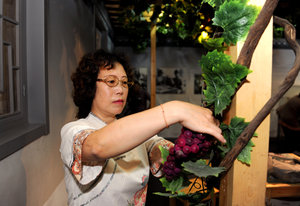 Chang Hong makes glass grapes. [Women of China]
In a museum based in Huashi (a community in Beijing's Dongcheng District), an exhibition room contains a huge grape trellis. Attracted by the "grapes" hanging on the vines, many spectators cannot help but touch the grapes. Most are surprised, though, when they realize the grapes are not real, but instead are made from glass.
The craft-making skill, which dates back more than 100 years, was invented and developed by the Chang family. The Chang family is the only family in China making ornamental glass grapes. Most of the inheritors of the skill have been female members of the family.
From a Hobby
Chang is not the family's original surname. The patriarch of the first generation of the family was an ethnic Mongolian named Hanqiharibu. During the Qing Dynasty (1644-1911), Hanqiharibu lived in a residence located in what is now known as Chongwenmen, in Beijing. Born into a privileged family of the Eight Banners (military administrative organizations during the Qing Dynasty), Hanqiharibu received an official salary from the imperial family; as such, he did not have to worry about how to earn a living.
Many of the people who were born into the families of the Eight Banners liked to make and develop interesting items. Hanqiharibu was no exception; in fact, he liked clay sculptures, and he could mold clay to create vivid animals and fruits. As China's noble class declined, during the late Qing Dynasty, Hanqiharibu sold his clay sculptures at the market (near his residence) in Huashi. He made a fortune.
Around that time, he began to think about how he could improve his crafts. He decided to use glass, which was then a rare and expensive material. "At that time, my forefather was the only person in China who dared to use glass to make crafts," says Chang Hong, the fifth-generation inheritor of the Chang family's glass-made grapes.
Hanqiharibu was inspired by liaoqi, or glassware. When she talks about the major differences between her family's crafts and normal glassware, Chang says, "Although we use glass as the raw material, we adopt different approaches as we make and process the crafts. A liaoqi, in the shape of grapes, is made from colored glass. Its central part is solid and the glassware is very heavy.
"But our grapes are made with a metal tube, which is covered with liquid derived from heated glass. We blow into the tube to form tiny glass balls, which resemble grapes. The centers of our glass-made grapes are hollow. We paint those little balls with different colors, some purple, some green, and some with mixed colors … In particular, we coat the grapes with frost-like powder to make them look real."
It is interesting how Hanqiharibu included frost-like powder into his processing skill; both Hanqiharibu and his wife, Fugui, were Buddhists, and one day, by accident, Fugui dropped a bunch of grape crafts into the incense burner in their shrine to Buddha. She was upset, and she feared, by being so careless, that she had disrespected Buddha. After she removed the grapes from the incense burner, she noticed a layer of ash covered the grapes, and that the ash resembled frost on real grapes. Hanqiharibu was inspired, and he developed the method used to coat his glass-made grapes with frost-like powder.
In 1894, when Empress Dowager Cixi celebrated her 60th birthday (in the Summer Palace), she was interested in a grape trellis near the opera theater. The celebration was held in October (on the lunar calendar), after autumn had set in and as winter approached. Given the much-cooler temperature, Cixi was surprised to see so many "fresh grapes" hanging on the vines. She asked her eunuch to fetch some to eat. When she was told those "grapes" were actually crafts made by Hanqiharibu and Fugui, she was pleased, and she gave the couple an honorable name, Chang Zai (meaning "everlasting"). In a show of gratitude, Hanqiharibu changed his family's name to Chang. Over time, Grape Chang became a popular brand in China.
Grape Chang earned the family the gold award during the 1919 World Expo, which was held in Panama. After Grape Chang became a worldwide brand, the Chang family began receiving orders from more than 20 countries.
A product of glass grapes [Women of China]
Only Female Inheritors
Hanqiharibu had two sons, Zhalunbu and Yihanbu, and three daughters, Chang Guifu, Chang Guilu and Chang Guishou. Zhalunbu had four sons (Chang Yuhua, Chang Yuguang, Chang Yupu and Chang Yuzhao), and one daughter, Chang Yuqing. Yihanbu had only one daughter, Chang Yuling. Zhalunbu and Yihanbu learned their craft-making skill — especially how to make glass grapes — from their father.

The family's business operated smoothly for the first two generations, but after Yihanbu died, in 1937, and Zhalunbu died, in 1944, the family had a difficult time maintaining the craft-making skill. Zhalunbu's four sons did not learn how to make any crafts; instead, they took and sold the grapes made by the family's female members, and then they gambled away the money.
The five Chang women — Guifu, Guilu, Guishou, Yuqing and Yuling — decided to pass their skill only to the family's female offspring. To keep their processing methods secret, the five women decided not to get married. After the founding of the People's Republic of China in 1949, then-Chairman Mao Zedong referred to the women as the Chang family's "five honorable virgins." Other than their own family members, they did not accept any apprentices; that is, until they were employed by a factory in Beijing.
Most of the records about the Chang family's glass grape-making skill were destroyed during the cultural revolution (1966-1976). After four of the "five virgins" had died, Chang Yuling was the only person who could teach the skill.
In 1978, Chang Yuling, then over 70, was invited to teach her family's craft-making skill in a workshop in Huashi. To ensure the skill would not be lost forever, Chang Yuling shared virtually all of her knowledge about the processing method, not only with her grandnephews, Chang Hong and Chang Yan, but also with apprentices from outside the Chang family.
Resurgence
Chang Hong was born in 1962. She and her sister, Chang Yan, lived with Chang Yuling when they were young kids. "We have a family rule that you are allowed to earn a living by something other than the (craft-making) skill, but you must learn the skill. My sister and I learned how to make glass grapes from our grandaunt when we were little girls. The skill was time-consuming, and the working conditions were very tough. So neither of us made craft making a full-time job," Chang Hong says. Unfortunately, none of Chang Yuling's apprentices were able to develop glass grape-making into a stable, long-term business.
After Chang Yuling died, in 1986, Grape Chang almost withered away. In 2002, Chang Hong, then 40, read a newspaper that reported, "Grape Chang has lost inheritors to keep its craft-making skill alive." Chang Hong felt sad, and she believed it would be her fault if later generations of the family failed to learn the skill. She and her sister, Chang Yan, decided to revive Grape Chang.
From finding the raw materials to finishing all of the procedures, Chang Hong and Chang Yan spent more than three months making the first batch of new glass grapes. "To ensure what we had made were top-quality crafts that could live up to the reputation of the Chang family, we invited a former apprentice of our grandaunt, Chang Yuling. That apprentice, who was more than 70 years old, almost cried when she saw our work. We heard that she said, 'It was a masterpiece from the Chang family.' We felt very proud," Chang Hong says.
In 2004, during the celebration to mark the 55th anniversary of the founding of New China, Chang Hong and Chang Yan attended a folk art exhibition in the China Millennium Monument, in Beijing. While there, they presented a one-meter-square potted landscape, which contained their glass-made grapes. That event marked the resurgence of the Chang family's crafts.
The family's glass-made grapes have been included on the list of China's national intangible cultural heritage. Still, many people do not know the history of the art form, and many cannot understand why crafts made from glass, which is now a common and cheap raw material, cost so much. "To be honest, I don't care about the commercial benefits we can get through this craft. We think it is more important to pass on the historic and cultural values of Grape Chang. We are having a hard time finding qualified young people to inherit the craft-making skill. Take my son as an example, he entered college (in the year) when I revived this craft … I couldn't ask him to quit his studies to learn the skill from me. Fortunately, now I have my granddaughter, Kaixin … I hope she will love this craft, and that she will have the patience and dedication to keep it alive," says Chang Hong.
(Source: Women of China English Monthly November 2013 Issue)