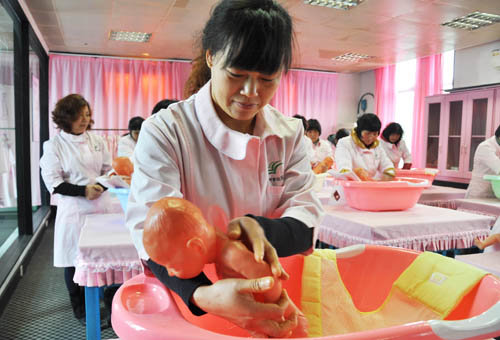 Women learn to care for babies in the training session. [szedu.org]
Shengzhou Women's Federation in east China's Zhejiang Province has developed its local brand of domestic service through fostering grassroots women during government-supported training sessions in the service industry.
The training sessions have been set in a local community college bearing the name of Yuexiangsao, which literally means the domestic service workers from the birthplace of Yue opera, a local musical performance that originated in Shengzhou in 1906.
Xia Meiying, a senior trainer from the infants' nursery class in the training scheme, states that Shengzhou Women's Federation has been launching such training projects since 2009. The trademark of Yuexiangsao was registered in 2013 as an official brand in the service industry. Moreover, this training project has been set up as a demonstrative base in 2014 to boost women's start-up ventures, further benefiting around 10,000 women to improve their vocational skills.
With an overall investment of around 3 million yuan (U.S.$ 450,000) from the local government, the pilot base has extended its courses to housekeeping, cleaning, nursery, forming a project which is a versatile, multifaceted, comprehensive and specialized brand in the service industry. Thus, these changes have fostered the project to earn its fame with quality service in the adjacent cities of Ningbo, Shaoxing and Hangzhou.
All of these achievements could be attributed to the strict training in the scheme, which usually requires trainees to attend 120 sessions, with 60 percent of the learning contents being practical operations while the other 40 are scheduled for theoretical study. Often, the overall learning experience lasts about 27 days and is part of a full-year program that provides targeted poverty-alleviation projects to women from impoverished families.
Meanwhile, qualified domestic service workers who passed the final related tests are guaranteed an average salary of 5,000 yuan (U.S.$ 750) in the field.
Based on quality control, the brand of Yuexiangsao is expected to benefit more women and households across the country.
(Source: China Women's News /Translated and edited by Women of China)