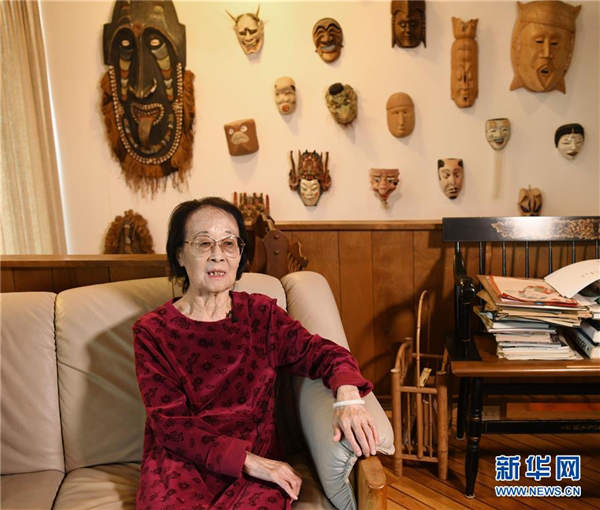 Chinese novelist Nieh Hualing [Xinhua]
Chinese novelist Nieh Hualing and her husband, Paul Engle (1908-1991), an American poet, initiated the International Writing Program (IWP), a writing residency for international writers and poets, in the city of Iowa (in Iowa State), the United States, in 1967. More than 50 Chinese writers and/or poets, have since participated in the program after China's reform and opening up in 1978.
Iowa, one of the six UNESCO Cities of Literature in the world, has been called Aihehua (meaning loving the glamor of lotus) in Chinese. Nieh, who has lived in Iowa for more than five decades, has helped link the city with the image of the lotus, which represents poetical peace and moral integrity in Chinese literature.
Nieh, born in 1925 in Central China's Hubei Province, moved to Iowa in 1964. Her husband, Engle, an American poet, was born and raised in Iowa.
Hugh Ferrer, IWP's associate director, says the exchange program has invited more than 50 emerging or established Chinese writers and/or poets to the US, for writing and communication with counterparts from other countries, to enhance literary communication for better understanding, since Nieh and Engle launched IWP in 1967.
As stated on its website, IWP's mission is to promote mutual understanding, by providing writers from every part of the world the necessary space, physical or imaginative, for creative work and collaboration in an intercultural setting. The IWP's staff members execute this mission by building enduring creative communities, encouraging cross-cultural dialogue, and supporting writers at all stages of their careers.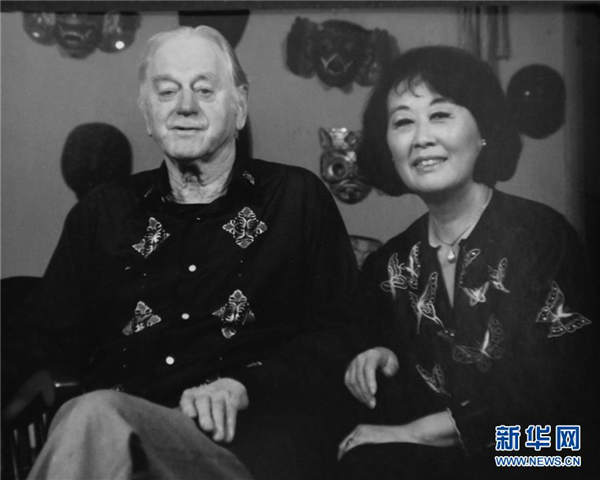 Chinese novelist Nieh Hualing (R) and her husband Paul Engle [Xinhua]
Deep Bond
"A gray-haired wind has blown thousands of years. Red dirt from green fields into your brown eyes ... The future is a rocket where you ride." Those verses were written by Engle, who recorded his responses to several trips to China, with his wife, in the late 1970s. Engle had Images of China, a poetic collection of his thoughts on China, published in 1981.
"During my first time returning to China (in 1978), I met writers Wang Meng, Bing Xin (1900-1999) and Ai Qing (1910-1996), as I wished. I was so happy. I needed to know and invite the senior writers, I needed to know and meet the young ones, and I needed to know what had happened in the past, and what would happen then for this country," Nieh recalled.
Most of the Chinese writers and poets the couple invited were household names, even globally famous, such as Mo Yan. Mo visited Iowa in 2004. He received the Nobel Prize in Literature in 2012.
He Jixian, professor with the Institute of Literature, under the Chinese Academy of Social Sciences, said, "Nieh has been inspiring to the narrative of China's stories in the 20th century. The writers she likes to invite are adept at telling the stories and emotions of the Chinese in key turning points of the country's history. Now that China has a booming economy, it is high time for writers to tell the stories happening in the country. It's about China's cultural identity. It is important."
The IWP is witnessing greater participation from Chinese writers and poets than ever before. Chinese poet and mathematician Cai Tianxin, one of last year's invitees, said he had been invited to give lectures in 11 American cities during his three-month stay in the US.
Cross-Cultural Dialogue
The house at 1104 North Dubuque Street, in Iowa, is a two-story building that is the home of Nieh. The house, for decades, has been the most frequented place by Chinese writers and poets visiting Iowa. Nieh and Engle were welcoming and caring, and they helped promote the Chinese writers and poets in the American literary community. They also raised funds to pay for the Chinese writers and poets' flights and daily necessities. In 1976, Nieh and Engle were nominated for a Nobel Peace Prize, for their work with IWP.
The program has been well connected with China since its inception. It remains a window for Chinese writers and poets to cross literature genres in the US, and beyond.
In 1979, Xiao Qian (1910-1999) and Bi Shuowang (1918-1999) became the first two Chinese writers to participate in the program after China's reform and opening up. Nieh and Engle organized a Chinese writers' weekend, during which the two Chinese writers, and about 40 writers from other nations, discussed Chinese literature. "Everyone was so excited and overjoyed at this opportunity to talk with Chinese writers," Nieh told Xinhua News Agency.
For Su Tong, who was invited to participate in IWP in 2001, the exposure to the international, family like atmosphere in Iowa impressed him the most. Bi Feiyu, an invitee in 2006, said he learned the importance of dialogue on an equal footing in teaching literature through the program.
For Chi Zijian, who participated in the program in 2005, the subjects of IWP's panel discussions, such as gender and writing, depicting horror, and imagination and reality, inspired her as a writer. "There are many windows for us Chinese writers to look through to the outside world, but the one in Iowa is still the largest and brightest one, leading us to the world stage," Chi noted.
The IWP has hosted many interesting writers, and Chinese writers in particular, Christopher Merrill, IWP's director, told Xinhua. "I can say without reservation that Chinese poet Xi Chuan's poems have shaped my own thinking as a poet, and the novels of Chinese writers Mo Yan and Su Tong have profoundly influenced my understanding of contemporary Chinese life. To be a writer in the 21st century, you have to have some sense of what China is all about."
Nieh Hualing (R) and Hugh Ferrer, associate director of International Writing Program, pose for a photo in Iowa [Xinhua]
(Women of China)