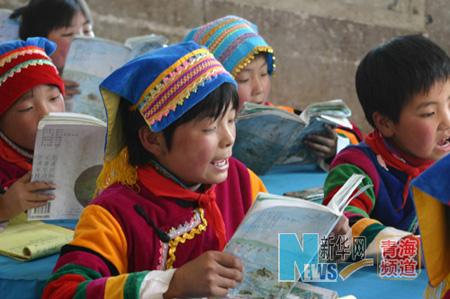 Girl beneficiaries of Spring Bud Project attend class in Huzhu Tu Autonomous County, west China's Qinghai Province. [Xinhua]


Due to the limitation of natural conditions and the socio-economic and cultural development imparity between regions, especially the negative impact from the outdated traditional ideologies, there are still quite a number of people who are illiterate in many areas, over 60% of them being female. Among children who drop out of school, girl children account for about another 60%. Girl children of today are female citizens of the future. Women's personal competence affects the quality of the whole nation in the future. To increase women's competence, we must start with education of girl children.

The Spring Bud Project is a public welfare service initiated in 1989 and implemented by China Children and Teenagers' Fund under the leadership of ACWF. The Spring Bud Program is to assist the dropout girl children in the poor areas to go back to school. Also, this program is conducive to China's realization and solidification of the nine-year compulsory education and elimination of adult illiterates. Up to now, this program has been widespread all over the country, with 600 million RMB yuan raised, 1.5 million dropout girl children assisted to go back to school, and over 300 Spring Bud Schools set up. To increase girls' capacity of relying on themselves to build their homeland, China Children and Teenagers' Fund has set up a Special Fund for Training of Practical Skills, providing technical training for adolescent girls.

Kind-hearted individuals and organizations both in and outside China have donated to support the Spring Bud Program. Thanks to the funds donated from Asia, America, Australia, Africa as well as Hong Kong and Macao in China, many "Spring Bud" schools, "Spring Bud" classes for girls and "Spring Bud" practical skills training workshops for girls have been set up in the poor areas of China.

For example, Mr. Fukami Toshu, President of Japanese Association for Promotion of World Arts and Cultures, has donated a total of 400 million Japanese yen (about 30 million RMB yuan) since 2000, with a plan to set up 100 "Spring Bud Schools" in 10 years. By 2004, he has set up 50 "Toshu-Spring Bud Schools" in 19 of China's provinces, municipalities and autonomous regions.

Soroptimist International is very active to support the Spring Bud Program. It has donated nearly 1.3 million RMB yuan to provide financial support for the "Spring Bud" classes in more than 10 banners and counties in Erdos City and Chifeng City, Inner Mongolia, which has improved the local school conditions and assisted about 740 girls to return to school and complete their compulsory education.

Using 250,000 RMB yuan out of the donation from H.H Shaikha Sabeeka, wife of His Majesty the King of Bahrain and chairwoman of the Supreme Council for Women in the kingdom of Bahrain, ACWF set up "China-Bahrain Hongdun Spring Bud School" at Hongdun Township, with joint funds from Altay City, Xinjiang Uighur Autonomous Region.

With 200,000RMB yuan, part of the kind donation by H.H Sheihha Mazah, Consort of H.H the Emir of Qatar and President of Supreme Council for Family Affairs of Qatar, ACWF is going to set up China-Qatar Lazikou Spring Bud School in Lazikou Township, Gansu Province.