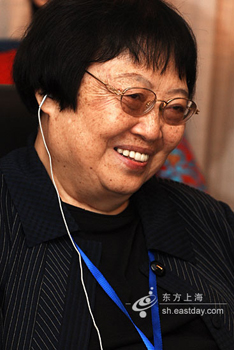 "There are thousands of potential paths in life, but only one can become reality. Choosing it is the key issue." So begins the first paragraph of Yue Daiyun's preface to her autobiography, Siyuan•Shatan•Weiming Lake - 60-year Career in Peking University (1948-2008). It resonates as an emotional postscript to her 2.6 million word memoir.
The autobiography is a compilation of Yue Daiyun's essays set against the background of Peking University. They portray Yue Daiyun's life there, from stalwart revolutionary student to eminent academic.
Yue Daiyun was born in January 1931 in Guizhou Province, and grew up in Guiyang. She went to Peking University to major in Chinese in 1948 and graduated four years later. She then took a teaching post at the university, and has worked there ever since.
Yue Daiyun is a PhD supervisor and professor at the Chinese Contemporary Literature and Comparative Literature Division of Peking University. She is a consultant professor at Shanghai Foreign Language University, and also at Northeast Normal University, Tianjin Normal University, Xiamen University, Nanjing University, Nanjing Normal University, and the Language and Culture University. She gained an honorary Doctor of Letters degree in 1990 from McMaster University of Canada, and an honorary PhD in 2006 from Kansai University of Japan.
The book Siyuan•Shatan•Weiming Lake - 60-year Career in Peking University (1948-2008)

The book is an account of Yue's 60-year-long career at Peking University, and of her relationship with this eminent academic institution. Yue describes her daily life, studies, teaching work, and friends at Peking University. It begins in 1948, when she began university life, and covers the next 60 years, and her studies overseas during the 1980s when her academic career began, at Harvard and Berkeley universities, and in Italy and Tunis. Yue Daiyun comes over throughout descriptions of her research into Chinese contemporary literature, comparative literature and practical cultural theory as an accomplished, passionate, creative and responsible academician.

Yue Daiyun also did work outside of academia during her 60 years at Peking University, for example at the Mentougou Labor Base and the Liyuzhou branch of Peking University. She worked as pig farmer, cook, donkey driver and brick maker before returning to academic work. Yue Daiyun mentions the other celebrated scholars she met at Peking University, such as Ma Yinchu, Ji Xianlin, Fei Ming, Wang Yao, Yang Zhouhan and Li Funing, also Zhu Jiayu, first female postgraduate student in PRC and Cheng Xiance, secretary of the Chinese Studies Department in Peking University, who both died tragic deaths. Yue Daiyun speaks of these Peking University elites with great respect and affection.

Yue's present positions include those of president of the Comparative Literature Institute of China and director of the National Foreign Literature Association. She has also held the positions of chief manager of the Comparative Literature and Comparative Culture College of Peking University (1984-1998), head of the Chinese Department of Shenzhen University (1984-1989), and vice president of the International Comparative Literature Association (1990—1997).

Representative Works:
Theory of comparative literature; Comparative Literature and Chinese Contemporary Literature; Intellectuals in Chinese Fiction (English edition); Nature (Chinese, French and Italian editions); To the Storm (English, German and Japanese editions); and It's Me - History Belongs to Myself.