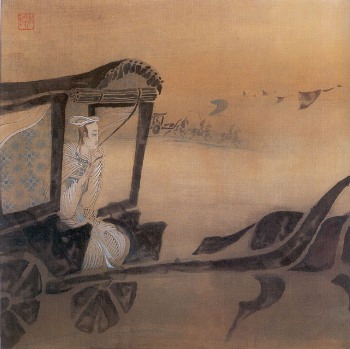 Empress Xiao (566-648) was an empress of the Chinese Sui Dynasty. Her husband was Emperor Yang (Yang Guang). Empress Xiao survived the ups and downs of the dynasty change. Eventually, she was buried with honor after the bitterness she had suffered through the years.
The future Empress Xiao was born of the imperial house of Liang Dynasty-as a daughter of Emperor Ming of Western Liang, who claimed the Liang throne as a vassal of Sui. She was born in the second month of the lunar calendar, and at that time, the superstitious Emperor Ming believed birth in that month to be an indicator of ill fortune. She was therefore given to her uncle. As her uncle was poor, she had to do labor, and she willingly did so.
In 582, Emperor Wen of Sui wanted to take one of Emperor Ming's daughters to be the wife of his son Yang Guang the Prince of Jin. Emperor Ming had fortunetellers discern whether any of his daughters were suitable, but the fortunetellers ruled that none were suitable. Emperor Ming then welcomed her back from her uncle's house, and the fortunetellers found her to be suitable, and so she was given to Yang Guang in marriage. She thereafter carried the title of Princess of Jin.
Princess Xiao was said to be meek and intelligent, and she was talented both in reading text and in fortunetelling. Emperor Wen was pleased with her, and Yang Guang favored and respected her. Emperor Wen made Yang Guang crown prince in 600. Thereafter, Princess Xiao carried the title of crown princess. She and Yang Guang had two sons together.
Emperor Wen died in 604, and Yang Guang took the throne as Emperor Yang. In 605, he made Crown Princess Xiao empress. He lived luxuriously, with tens of thousands of women filling his palaces. But he still maintained respect for Empress Xiao, and he made many of her relatives officials in his government. Empress Xiao often accompanied Emperor Yang on his tours around the empire, and she saw that he had lost his virtues. She wrote a circumspect poem to try to get Emperor Yang to change his ways, but he either did not realize that that was her intent, or simply ignored the poem.
By 618, with virtually an entire empire engulfed in warfare from the rebellions against his rule, Emperor Yang was at Jiangdu, the capital of Yang Province. However, the soldiers there were plotting rebellion, as they missed their families in the north. When a lady in waiting reported the plot to Empress Xiao, she told the lady in waiting, "I will let you report it to the emperor." Emperor Yang, not willing to hear any bad news, however, executed the lady in waiting. Later, when other ladies in waiting wanted to report on the plot, Empress Xiao advised them against it, reasoning that there was nothing left that could save the dynasty. Soon, a plot led by the general Yuwen Huaji came to fruition, and Emperor Yang, along with his sons and grandson were killed. Empress Xiao and her ladies in waiting had to personally make caskets for Emperor Yang.
Yuwen Huaji abandoned Jiangdu and headed back north, taking Empress Xiao and her ladies in waiting north. He was not a good commander, however, and his campaign north suffered constant defeats. By fall 618, he decided to become emperor before his final defeat. He declared a new state of Xu with himself as emperor.
In 619, Yuwen Huaji was captured and executed by one of the rebel leaders, Dou Jiande the Prince of Xia. Dou treated Empress Xiao with kindness and respect while giving a proper mourning for Emperor Yang. Subsequently, Princess Yicheng, the Sui clans married to Tujue area, requested that Dou send Empress Xiao to her, and Dou did so, along with Emperor Yang's daughter Princess Nanyang and the head of Yuwen Huaji.
In 630, when Emperor Gaozu's son Emperor Taizong of Tang sent a general to attack Tujue's Jiali Khan Ashina Duobi, Ashina Duobi's associate Kangsumi surrendered, taking Empress Xiao with him. One of Emperor Taizong's official wanted to have Empress Xiao interrogated to find out whether any of Tang officials had been in secret communication with her, but Emperor Taizong refused and instead treated her with respect. As Empress Xiao's brother was an important official under both Emperors Gaozu and Taizong, she maintained some degree of honor at the Tang capital Chang'an, and she was subsequently in charge of Emperor Yang's reburial with honor. She died in 648 and was buried with honors due an empress, at Jiangdu with Emperor Yang.
(Source: 5ilog.com/Translated by womenofchina.cn)