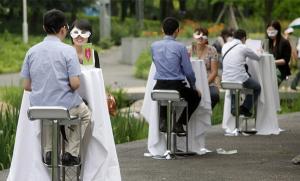 Some single men and women take part in a blind date event in Shanghai. [china.org.cn]
You may have heard of the "leftover women" of China -- women who have not married by their late 20s or early 30s -- but in fact, the recent rise in "leftover men" is becoming a pressing problem in China, according to the South Metropolitan newspaper.
The sex ratio at birth in China, an index often used to gauge overall gender ratio, was 117.6 in 2013, meaning that for every 100 female children born that year, there were 117.6 male children born. The internationally recommended ratio falls between 103 and 107.
Men between the ages of 20 and 45 will soon outnumber their female counterparts by 30 million, according to a document published by the State Council in 2006.
China's sex ratio was 107.2 in 1982 and continued to spiral upward for nearly 30 years until 2009, when the figure began to decline. The ratio once reached an alarming 121.2 in 2004.
The unbalanced ratio partly stems from the traditional gender hierarchy in China -- men usually enjoy higher status than women, thus people are more willing to raise male children.
China's long-term family planning policy is also to blame, as it has caused the low birth rate which subsequently created this uneven gender ratio. "It is a price the Chinese society pays," said Mu Guangzong, a professor at the Institute of Population Research, Peking University.
China has been taking measures to address these ever-increasing problems.
China's population watchdog, the National Health and Family Planning Commission, issued a circular this June, requiring a joint conference to be held at least once a year to deal with cases that involve pre-birth gender identification and termination of pregnancy based on gender, the two practices that directly result in the uneven gender ratio.
The country also proposed reducing the gender ratio to 115 by the end of 2015 in its Twelfth Five Year Plan for the nation's population development, published in 2011 .
Though the targeted ratio is still higher than the ideal figure, the nation nonetheless faces a daunting task, said Zhai Zhenwu, dean of the School of Sociology and Population Studies, Renmin University.
On another front, China's newly relaxed policy on population control has been greeted with much enthusiasm, as it allows a family to have more than one child as long as one of the parents is an only child. But statistics from Zhejiang, the first province to implement this policy, show that 1,309 male children have been born since January of this year, compared to only 1,135 female children born in the same period, a ratio which still far exceeds that recommended by national and international authorities.
Many scholars have suggested that more efforts should be made to translate gender equality from an idea into reality, otherwise the country will encounter many social problems induced by the prevalence of "leftover men."
(Source: china.org.cn)