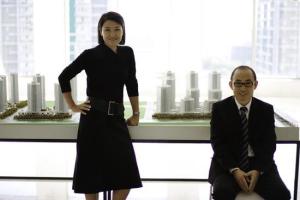 Zhang Xin (L), SOHO's CEO and her husband Pan Shiyi (R) [Baidu.com]
The billionaire couple who founded Chinese real estate company SOHO China have given $15 million to Harvard University as part of a $100 million endowment they are establishing for underprivileged Chinese students to attend top universities around the world.
Zhang Xin, SOHO's CEO and her husband Pan Shiyi have set up the SOHO China Scholarship with the donation to Harvard.
"Getting the best education should not only be for those who have the means - it should be for those with the talent," said Zhang.
Harvard enrolls mostly Chinese students who are sent to the United States for high school by their wealthy parents. Zhang said that the message she and her husband want to send is that SOHO scholarship money is available and "if you're good enough you should apply."
Zhang was a factory worker in Hong Kong and then studied on full scholarships at the University of Sussex and Cambridge University in the UK.
She went on to become an investment banker at Goldman Sachs Group Inc. Her husband grew up in an impoverished part of western China. The couple have a combined wealth of about $3.6 billion, according to Shanghai-based Hurun Research Institute.
In June 2013, a group led by Zhang paid a reported $1.4 billion for a 40 percent stake in the most expensive US building on the market - the General Motors office tower in midtown Manhattan.
In one of the largest purchases of a single US property by a Chinese investor, the family of Zhang, head of the largest property developer in Beijing and Shanghai, teamed up with Brazil's Safra family to buy the interest in the 50-story white marble-clad landmark once owned by Donald Trump.
SOHO China started a foundation to build schools in rural areas of Qinghai and Gansu in western China where Zhang's husband grew up. Zhang and her husband said they are looking to set up other endowments at US colleges and abroad. "It's my turn to be generous to others," she said.
China currently accounts for the largest contingent of foreign students, with more than 235,000 studying in the US in the 2012-2013 school year, up 21 percent from the previous year, according to the Wall Street Journal.
Julia Chang Bloch, president of the US China Education Trust, and a Harvard alumnus, said that Harvard will accept a student regardless of their ability to pay, but the SOHO scholarship "will level the playing field for Chinese poor students to go to Harvard."
Bloch became the first Chinese-American US ambassador when she was appointed to Nepal.
The US China Education Trust, a nonprofit organization she founded in Washington, promotes US-China relations through education and exchanges. Bloch received her master's in government and East Asia studies from Harvard.
In 1988 she and her husband Stuart Marshall Bloch established the F.Y. Chang Foundation in honor of Bloch's father, Chang Fuyun, the first Chinese national to graduate from Harvard Law School.
Their foundation offers scholarships to Chinese students studying law at Harvard. Launched in 2007, the foundation also provides the Maurice "Hank" Greenberg Scholarship to Chinese students at Yunan University and Shandong University in China.
Bloch said the contribution to Harvard "is terrific, it really shows China's rising power".
"It is an example of China's maturity as a leader, as a major power, the soft power for any major country is philanthropy," she said. "China's changing philanthropy is really in its infancy."
(Source: China Daily)