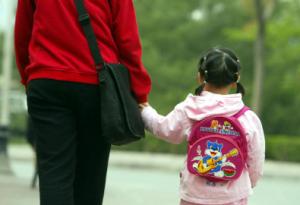 Data on the high percentage of adolescents from migrant worker communities engaging in criminal behavior has raised concern. [banyuetan.org]
A work report on the sentencing of adolescents in Beijing who commit crimes, released by the Beijing Municipal Higher People's Court, indicated that among all the adolescents who committed crimes in 2013, the adolescents without a Beijing hukou (China's official household registration certificate) accounted for 65.3 percent of all adolescent criminals.
This high percentage raised people's concern about adolescents without a Beijing hukou, who are mostly children of migrant workers. Their parents are mainly workers who migrated from their rural hometown to work in the city and whose educational levels are usually not high.
Further concern was raised by another survey report released recently by Qingpu District People's Procuratorate in Shanghai, which showed that among all the 343 adolescent criminals from 2009 to 2011, in 253 of the cases the procuratorate had dealt with, there were altogether 293 adolescent criminals who had no Shanghai hukou, accounting for 85.4 percent of total adolescent criminals.
What is causing the high incidence of criminality among children without a local hukou?
Expert analysis reveals that the first reason is that there hasn't been a strong social security network for the children of migrant workers. They have no local hukou, which means that under the current system they are not permitted to enjoy social securities, education, employment, medical services and insurance. So they lack a feeling of belonging to the city in which they live.
This situation seems clearly unfair to these children. Due to the lack of social security resources, these children of migrant workers are in a disadvantaged situation when competing with their urban counterparts. With the increasing gap between their urban peers on comprehensive qualities and competitiveness, it is easy for them to have an unbalanced outlook towards society. On the other hand, in their disadvantaged situation, these children may have a sense of being discriminated against by urban civilians. This social background forms the fundamental reason for the high percentage of criminality among these adolescents.
Additionally, due to the backwardness of public management, there are no special social management organizations responsible for dealing with the public management issues of these adolescents, including their archives management, renting, schooling issues and employment, which has caused a disordered situation from the perspective of comprehensive public management. This also makes them lack of a sense of belonging in urban cities.
The second main reason is that they lack a solid school education. Educational fairness is a fundamental factor contributing to the overall fairness of society. However, the schooling issue has become the biggest difficulty that the children of migrant workers now face. Considering the rapid urbanization and increasing number of rural workers migrating to urban areas, the educational resources haven't developed as fast as they should have. Governments of urban cities have to set restrictions on schooling and the rights of taking part in the entrance examinations of high schools or colleges of these migrant children without a local hukou.
For these reasons, the dropout rate of these adolescents is rather high. Due to their lower educational level and the lack of school education at an earlier age, these youths are prone to commit crimes.
The third reason is that some of these adolescents' parents also lack knowledge of scientific education methods and, even worse, some of these parents themselves have criminal problems. Or some are busy making a living and have no time to care about their children's education. All these are negative factors which contribute to these adolescents' high percentage of committing crimes.
More than 200 years ago, Victor Hugo, the great French writer, once said that building one more school means building one less prison. His words have told us the importance of education.
With the ever increasing scale of urbanization to be impacting China in the following decades, more and more rural workers and their families will be migrating to urban areas. The problem of the second generation of these rural workers has to raise the high concerns of the whole society.
How should the basic schooling problems of these children be solved? Cheng Jing, from Xihua Normal University, gave the following suggestions.
First, the compulsory education system needs to be adjusted to ensure the schooling rights of migrant children.
Cheng proposed that a special government organ should be set up to deal with the schooling issues of migrant children. The local educational, financial, administrational and labor government organs should cooperate with each other to provide a solid security for these children's schooling. On the problem of the shortage of educational funds for these children, Cheng suggested that the central government should allocate a special fund for improving the schooling conditions of these children.
The second is to strengthen the management of both public and private schools and the cooperation between them.
The third is to improve the rural workers' quality. Cheng suggested the government strengthen the training of migrant workers, both on their vocational skills and their family education.
It's believed that with the all-round efforts made by the government and the whole of society, the second generation of migrant workers could have a better early-life environment and a well-resourced school life in the future, leading to a reduction in the percentage of adolescent criminals among migrant communities.
(Source: banyuetan.org/ Translated and edited by Women of China)