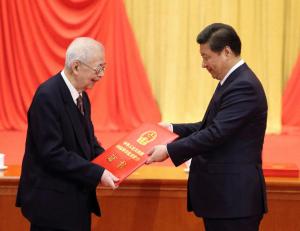 Chinese President Xi Jinping presents the certificate to physical chemist Zhang Cunhao, winner of China's top science award this year, in Beijing, capital of China, January 10, 2014. [Xinhua]

Two Chinese scientists, physical chemist Zhang Cunhao and nuclear weapons expert Cheng Kaijia, won China's top science award on Friday for their outstanding contributions to scientific and technological innovation.

The pair, both academicians of the Chinese Academy of Sciences, were presented with certificates by Chinese President Xi Jinping at an annual ceremony held to honor distinguished scientists and research achievements.

Winners are each entitled to an award of 5 million yuan (US$ 819,672).

Addressing the ceremony, Premier Li Keqiang said, "China has entered a new stage in which the country must rely more on sci-tech innovation to guide and support its economic development and social progress."

China's traditional growth mode, which was mainly driven by factor input, is difficult to sustain and is gradually losing its competitive edge in medium and low-end products, according to Li.

"Our country's economy is shifting from high-speed growth to a phase of medium- to high-speed growth," he said.

The premier said China must rely on scientific and technological innovation to improve the overall quality of its economy, move upward in the industrial value chain, foster a new competitive edge, overcome restraints in resources and the environment, and achieve more sustainable development.

The country needs breakthroughs in cutting-edge science and technology as well as in strategic sectors vital to the national economy and people's livelihood, he said.

The government should free innovative scientific activities from administrative intervention and "let the market speak" in terms of research orientation, resource allocation and use of funds, he urged.

It should also create an environment that promotes fair play and encourages creativity and initiative among scientists and researchers, Li said, while encouraging the young to follow the example set by outstanding scientists and contribute their wisdom to the country and the people.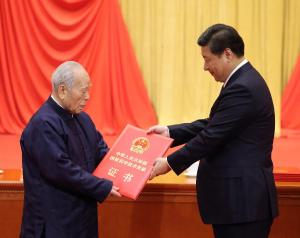 Chinese President Xi Jinping presents the certificate to nuclear weapons expert Cheng Kaijia, winner of China's top science award this year, in Beijing, capital of China, January 10, 2014. [Xinhua]

Several other scientists and scientific research programs were awarded at the ceremony, and Chinese leaders Liu Yunshan and Zhang Gaoli were also present at the event.

Zhang, the chemist, was born in 1928 in north China's Tianjin. He earned a bachelor's degree in chemical engineering in 1947 and went to the United States to further his studies. Zhang obtained a master's degree in 1950, when the Korean War broke out.

In 1951, he returned to serve his hometown despite the hard conditions in China, and devoted himself to scientific research at the Dalian Institute of Chemical Physics of the Chinese Academy of Sciences in the northeast port city.

During his 60 years of scientific research, Zhang focused on many pioneering technologies, including water gas technology, rocket propellant and the laser field.

Zhang was in charge of the National Natural Science Foundation for eight years, during which the funds for natural sciences were increased eight-fold, and a fund for outstanding youth was also set up under his request.

Nuclear weapons expert Cheng, 96, has participated in more than 30 of China's nuclear experiments, including the country's first atomic bomb, hydrogen bomb, and the combination of the two bombs.

He has devoted 20 of his prime years to living in the vast Gobi in northwest China's Xinjiang Uygur Autonomous Region since 1963.

Cheng also participated in writing China's first academic document for atomic bomb research and experiments, designing a plan for setting off an atomic bomb at an iron tower higher than 100 meters, and planning the missions and formation of the institute of nuclear weapons experiments.

His team has established China's nuclear explosion theory, the research field of nuclear explosion effects, different kinds of nuclear experiments, and technical safety standards.

Cheng has greatly promoted the scientific development of nuclear experiments and improved the design of nuclear weapons.

The 2013 science awards were granted to 10 scientists and 313 science and technology research achievements, including 54 natural science prizes, 71 technological invention prizes, and 188 sci-tech progress prizes.

Eight foreign experts won the international sci-tech cooperation awards, including Fabio Rocca, an Italian professor of radar and remote sensing.

Of the sci-tech progress prizes, three won top honors, including hybrid rice techniques and a manned space rendezvous and docking project, the latter being very important to China's strategic objective of manned space projects.

Since 2011, China has successfully conducted four space missions, including the orbiting space lab Tiangong-1, spacecraft Shenzhou-8, Shengzhou-9 and Shenzhou-10, and the rendezvous and docking of the Tiangong-1 with the spacecraft.

The use of domestic high-definition 3D satellite mapping won first place among the sci-tech progress prizes.

In January 2012, China launched the Ziyuan III satellite, China's first high-definition 3D satellite, which sent back a topographic map within a month. Its mapping precision is higher than that achieved by overseas satellites of the same kind.

Following a three-year vacancy, China's top natural science prize in the annual national science awards was given for the discovery and research of iron-based compounds as high-temperature superconductors.

Superconductivity refers to a phenomenon where electrons travel with no resistance when a conducting material, known as a superconductor, is cooled below a certain temperature.

With applications in a range of high-tech inventions, superconductivity has become a part of daily life, from boosting cell phone signals to offering medical imaging.

According to the science awards authorities, this year's awards increased efforts to encourage enterprise innovation, and many outstanding awards were given to fields of public concern, including medicine and health, environmental protection, energy, resources and food safety.

(Source: Xinhua)
Please understand that womenofchina.cn,a non-profit, information-communication website, cannot reach every writer before using articles and images. For copyright issues, please contact us by emailing: website@womenofchina.cn. The articles published and opinions expressed on this website represent the opinions of writers and are not necessarily shared by womenofchina.cn.