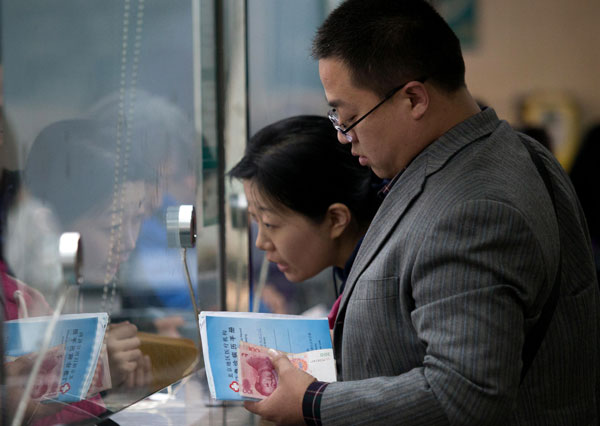 Patients pay their medical bills at Beijing Tongren Hospital. [China Daily]

Early in November, Chen Ping arrived in Beijing on what was likely to be her last trip to the capital.

The 52-year-old stayed just two days - long enough for her to say a heartfelt farewell to the doctors and nurses in the oncology department of the Chinese PLA General Hospital who have been treating her breast cancer for eight years.

Chen, who comes from a small village in Jilin province, wanted to express her gratitude to the medical staff for helping to extend her life.

She told the staff she was grateful to have lived long enough to see her sons grow up. However, as her illness is now in the terminal stages she has decided to stop receiving treatment.

One man Chen particularly wanted to see was out of town, so she was unable to say a last goodbye to Liu Duanqi, former director of the hospital's oncology department, who supervised her treatment.

Liu, looking tired after a working trip to Gansu province, said of Chen: "She's a peasant woman with a rural hukou (household registration). That means the only public medical insurance available to her is the New Rural Cooperative Medical Scheme."

The hukou system effectively ties a person to their place of birth and registration. It usually means that they are ineligible to claim social benefits or medical insurance if they receive treatment outside the place where they are registered.

"Under the medical insurance plan, patients can only go to hospitals at the district level, which usually means village or county level. Theoretically, a patient can be transferred to larger hospitals in the cities or provincial capitals if the condition is deemed too challenging for the local doctors, but that requires going through a procedure that can be daunting. As a result, it's extremely rare for a patient to be transferred outside of their home province," said Liu.

The reality facing Chen was that if she wanted to be treated at a hospital outside her hukou, for instance in Beijing, she would have to foot the bill herself, something the increasingly frail mother of two couldn't afford to do.

"Knowing that every penny that went into Chen's cure would be deducted from the funds in her bank account, which barely existed, the doctors tried to keep the disease under control and gave her an operation at minimum cost," recalled Liu. "When she left the hospital, I gave her a prescription that cost her half of 1 yuan (8 US cents) a day. She's been using the same prescription since then."

Cross-Provincial Plan

While some observers blame Chen's predicament on China's medical insurance program, it should be pointed out that the policy works in reverse for urban dwellers, whose medical insurance doesn't cover expenses incurred out of town. However, the double whammy of financial hardship and low-quality local healthcare services means residents with a rural hukou are usually hit hardest by the policy, migrant workers especially.

"If they get ill in the city - and they probably will because of the grueling workload - they have two choices; they may visit a doctor in the city and pay with their own hard-earned money, or they may choose to take the train and head home where they are covered by insurance, but that doesn't take into account the cost of the ticket and the near-certainty of losing their job," said Liu.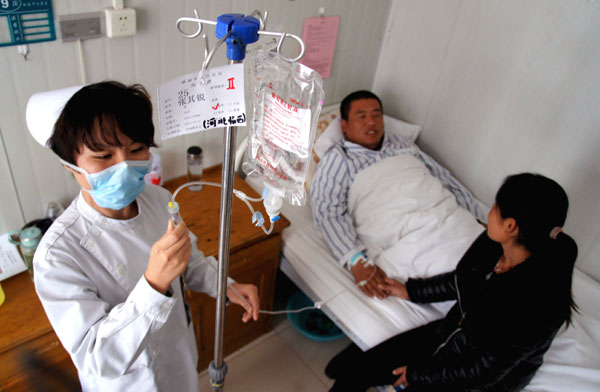 Zhang Qirui, from Heibei province, receives treatment at Liaocheng People's Hospital in Shandong province. [China Daily]
Now, it seems the central government is taking step to rectify the situation. Preparatory work has started on the construction of a State-level information platform to support a cross-provincial "instant reimbursement" plan for all rural residents, according to Yang Qing, director of the Rural Health Department at the Ministry of Health.

Successful implementation of the platform would mean that rural residents would be eligible for treatment at hospitals outside the areas covered by their hukou and, crucially, wouldn't have to pay the full cost themselves.Instead, they would be required to pay the difference between the total treatment cost and the amount contributed by their local medical insurance program.

Currently, patients either have to pay the entire cost of treatment, or, in the unlikely case of a transfer, claim reimbursement after returning to their hometown and submitting the requisite details and forms to the local health authority.
Please understand that womenofchina.cn,a non-profit, information-communication website, cannot reach every writer before using articles and images. For copyright issues, please contact us by emailing: website@womenofchina.cn. The articles published and opinions expressed on this website represent the opinions of writers and are not necessarily shared by womenofchina.cn.