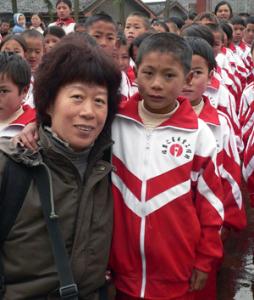 Zhang Junlan with school children in Liangshan [child.enorth.com.cn]
During the past 14 years, Zhang Junlan had visited Liangshan Yi Autonomous Region in Sichuan 19 times to help poor students and the poverty-stricken. The total funds she raised for the region have exceeded 15 million yuan (US$2.3 million).
In 1997, Zhang Junlan, a journalist with the Tianjin Daily Press Group, joined a volunteer group made up of 100 Chinese journalists to alleviate the situations of people in poverty-stricken areas.
During a visit to Liangshan, she was touched by children's poor living conditions and vowed to devote the rest of her life to help Liangshan people to shake off poverty. Since then, she has visited Liangshan 19 times. With various sorts of social assistance, she set up three Project Hope primary schools; collaborated with overseas philanthropists to set up scholarships and grants-in-aid in four local colleges and aided several thousands of poor students. She has set up 39 orphan's classes, which have helped more than 1,500 school-age orphans, most of whom were orphans of AIDS patients, to complete their nine-year compulsory education.
Further, Zhang also deals with providing disaster relief and emergency assistance. To date, she has injected more than 15 million yuan (US$2.3 million) of funds into Liangshan, and 10 orphans' classes and child-girl classes are being set up.
(Women of China)