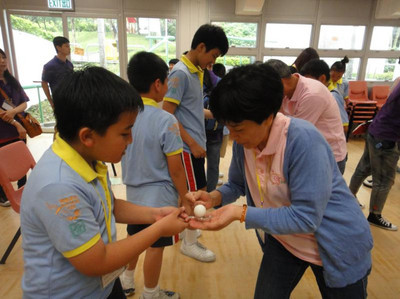 Participants pass table tennis balls among each other during a parent-child activity in Zhongshan. [zs.southcn.com]
Zhongshan Women's Federation in south China's Guangdong Province has recently designed a public welfare project to improve fathers' participation in their children's ongoing development, China Women's News reports.
The scheme, which so far has benefited over 300 households, comprises of educational workshops and parent-child activities.
The initiative recently stood out in a contest held on a TV station of the local city of Zhongshan. It received the bronze prize among a total of 25 shortlisted projects.
With the joint cooperation of Zhongshan Family Education Center, the new campaign aims to encourage fathers to fulfill their unique responsibilities and further increase their child's confidence, independence and sense of identity, organizers said.
According to research carried out by China's National Health and Family Planning Commission, many of the nation's youngsters are currently lacking when it comes to spending quality time and having proper education from their dad.
Statistics indicate that only 7.5 percent of children are looked after by both parents in their daily lives, while less than 12 percent receive equal mutual education from both sides.
Meanwhile, boys lacking in attention from their fathers may fall behind in their masculinity. Research even suggests that girls, under such circumstances, are more likely to fall in love at an early age.
Moreover, the growing distance between fathers and their children, engendered by long-term isolation, may leave children more prone to developing negative character traits such as anxiety, loneliness or other mental health problems, one expert pointed out.
Therefore, many professionals believe that such initiatives are necessary and crucial under the current social circumstances.
(Source: China Women's News /Translated and edited by Women of China)