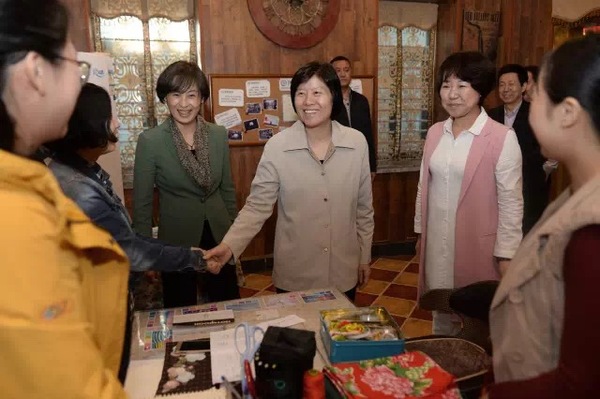 Shen Yueyue (C), president of the All-China Women's Federation (ACWF), paid a visit to northeast China's Jilin Province from September 18-21. [Women Voice]
Shen Yueyue, president of the All-China Women's Federation (ACWF), paid a visit to northeast China's Jilin Province from September 18-21 as part of an inspection tour to oversee the implementation of President Xi's remarks on mass organization, and of women's federation reform in particular.
The latest thinking on reform states that the federation should act consistently to serve the general public, and achieve improvements that involve women to play their role as well as contribute their strength to the building of a well-off society.
Upon her arrival, Shen visited the women's committee at a local business hub where most of the entrepreneurs are female. There, she inquired about development conditions. She urged people to make local policies and projects a priority so as to better complement services that are needed to encourage women's entrepreneurship and women's federation work.
Shen also visited the Jilin Women Netizen branded vocational training project, the third of its kind. She warmly greeted the trainees in the school and asked about their life and work conditions as well as their employment status.
The principle and president of the project Sun Yajuan, as one of the first beneficiaries of the scheme, detailed her journey as an entrepreneur. Shen affirmed the current achievements and hoped local women's federations could combine the three projects with new online-to-offline services and further enhance women's development.
In Daoheiyu village in the provincial capital of Changchun, Shen spoke highly of a business founded by several female university graduates and extended her hope for ACWF to help other enterprises copy such experiences to bring about more achievements in other areas of the country. A team of 44 women representatives in two villages in Shuangyang District of Changchun won praise from Shen.
Shen also stressed the vital role of women's federations as a bridge and bond between the government and women of the general population. Women's federations should convey concerns from the highest levels down to the roots and bring more benefits. In particular, women's federations should optimize cohesion of women and strengthen the whole organization under the guidance of the Party.
Elsewhere on the tour, Shen's investigating group learned that under the leadership of Wu Yaqin, the secretary of the Party committee and president of the local women's federation, people in a community in the city of Changchun live happily and harmoniously. Shen affirmed the management methods adopted by the community, and advocated women's federation officials to follow their example.
The concerns of Korean minorities were put in focus when Shen arrived at the household of Song Mingyu, which won the Most Beautiful Family award in Jilin. She inquired about their life in recent days and extended her best wishes for their health and welfare.
During the visit to a Korean chef training school in the city of Yanji, Shen praised the principle Jin Shunyu. She said that Jin's contribution to women's entrepreneurship was highly positive and stressed her role in leading more women to start businesses.
Shen also visited a street community in the city of Yanji that attaches great importance to the work on women's rights whilst also being active in family education. She encouraged the community to implement President Xi's remarks on family life and urged them to further enhance harmony in community by launching more activities such as the Looking for the Most Beautiful Family award.
At the summarizing forum, organizers at Jilin provincial and municipal levels gave speeches. Shen extended her gratitude to Jilin provincial government for their great concern to ACWF's work and affirmed the work done by women's federations at all levels in Jilin Province.
Shen noted that local women's federations should follow a problem-oriented development pattern, and find feasible solutions in reducing formalism in administration.
Shen emphasized the construction work of women's federations at grassroots levels. Women's federations across the province should be determined to be full of vigor and vitality in serving people and protecting the interests of women, she said.
Shen also pointed out requirements on issues of women's entrepreneurship, family life and poverty relief. She especially encouraged them to find opportunities in combining the internet with women's work.
She concluded that local women's federations should make strenuous efforts to provide better services for women and to add driving force in implementing policies and professional training. Shen said she believes that with the joint efforts from women in various fields, atmosphere can be enhanced for business and more achievements can be made in realizing the "Chinese Dream" of the rejuvenation of the Chinese nation.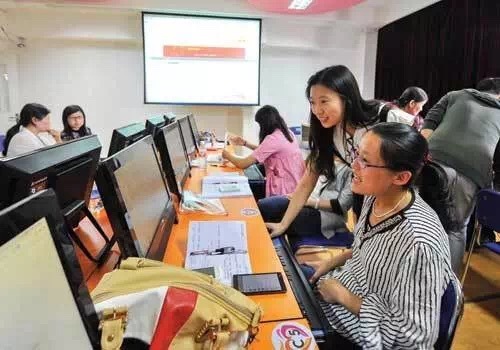 Staff of the Jilin Women Netizen branded vocational training project at work. [Women Voice]
Women learn painting in Shuangyang District in Changchun. [Women Voice]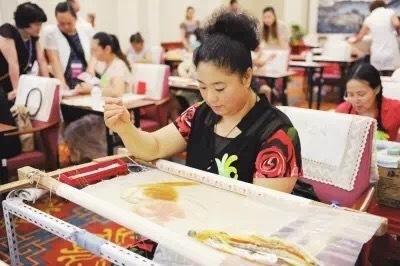 Women handcrafters at work. [Women Voice]
Shen (C) talks to Song Mingyu's family, which won the Most Beautiful Family award in Jilin. [Women Voice]
(Source: Women Voice/Translated and edited by Women of China)