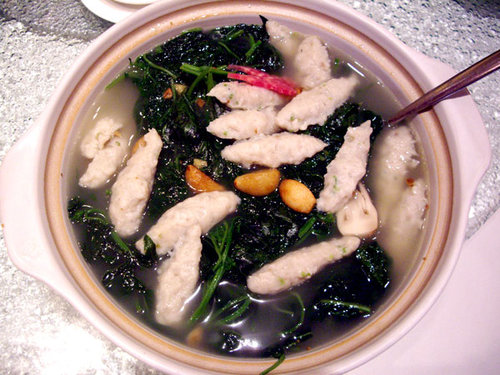 The spinach in a broth featuring nuggets of fish paste is soothing and nourishing. [China Daily/Rebecca Lo]
It is a truth universally acknowledged that Cantonese cuisine is best enjoyed when shared with a group of people. Whether they are friends, family or colleagues, there is so much variety that you are bound to find something you covet - and other fare that you only want a quick taste of.
Rebecca Lo travels back in time to the Guangzhou of rock gardens and koi ponds to taste traditional Cantonese fare with some inventive twists at Beiyuan Cuisine.
The camaraderie fostered at one of these banquet style meals also does wonders for bonding with new friends. If the food is especially delicious that day, it gives you warm memories to relive when you get together again.
Beiyuan Cuisine is one of only a handful of old school Lingnan garden restaurants left in Guangzhou. Built in 1928, it was formerly a private residence and its surroundings have a domestic feel enlivened by the splash of koi ponds set among tightly manicured trees and blooms.
Glass-enclosed pavilions with gracefully arching rooflines recall a gentler time when tea was drunk for hours as scholars serenely gazed at the gardens. Many of the original trees were retained when the complex was converted into a restaurant, and they add to the charm of the historic setting.
Beiyuan's two stories of private dining rooms are good choices for business functions or large family gatherings as they range in size to seating for a dozen to a hundred. The majority look into the central courtyard garden.
My group of friends and I arrived hungry and ready to delve into Beiyuan's extensive menu after a leisurely stroll around the atmospheric setting.
Being traditionalists, we started with a large platter of roast meats, including duck, pork and chicken. The standout, by far, was the sweet and succulent char siu. It was decadently fatty and melted in my mouth. Good thing none of us were on diets, because we polished off the entire plate in record time.
Next up was crispy chicken, often the litmus test for any Cantonese restaurant. The chicken was moist, with a thin skin covering each slice that was as crunchy as a potato chip.
We were all awed by the Mandarin fish, steamed and presented with scallions and coriander in a light soy sauce. Surprisingly, it was already de-boned, leading to further gluttony as we all dove in with our chopsticks while it was still hot. Fresh, tender morsels of just cooked fish greeted our taste buds. One of my friends even attacked every part of its head with gusto.
A parade of dim sum followed, with har gau, steamed spare ribs and shrimp noodles presented. My favorite was the shrimp noodles made with red rice - their pink hue resembled tuna sushi and offered an unexpected crunch as the shrimp was coated in youtiao crumbs before being wrapped in the rice noodle.
Although we were starting to feel stuffed, we managed a couple of vegetable dishes before tackling rice, noodles and dessert. The wok-fried kai lan with garlic was crunchy and had a welcome edge of bitterness to round out the vegetable's natural sweetness, while the spinach in a broth featuring nuggets of fish paste was soothing and nourishing.
My friends all began raving about the pastries as soon as they were set before us, since one of the three choices featured a thousand-year-old egg filling. I have never seen it used in a sweet and was a bit skeptical, but everyone insisted it was the best thing on the menu.
Not the biggest fan of thousand-year-old eggs, I still had to admit that the texture was superb and set off the squishy delicacy well. I preferred the red bean cake with coconut milk, both for its pleasing two-tone aesthetic and its comforting silkiness.
We had practically licked every plate clean and were happily groaning from our efforts. This is what a splendid Cantonese meal should be - and the setting was the ideal backdrop.
(Source: chinadaily.com.cn)