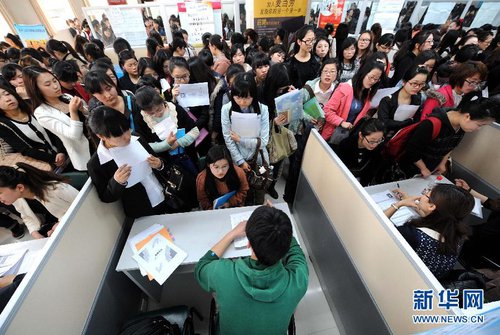 A job fair in east China's Jiangsu Province in March 2013 [Xinhua]
A recent survey shows that only 9.2 percent of female college students want to start their own businesses, citing the high risks involved as a deterring factor.

Launched by a team from the School of Mathematics and Physics under Jiangsu University of Technology in Changzhou City, east China's Jiangsu Province, the two-week survey assessed the job situation of 400 female college students across the city.

The survey shows that 58 percent of women polled prefer to work at government offices, state-owned enterprises and public institutions and 22.1 percent prefer foreign companies. According to the survey, 72.9 percent believe they have grim employment prospects.

Students graduating from universities reached a record of 6.99 million this year, 190,000 more than last year. Women students in particular are struggling because they are thought to have a shorter career life than their male counterparts.

In terms of choosing a major, 62.3 percent said they had listened to their parents or college advisors, thus resulting in many having no interest in their majors and only 8.5 percent being sure about what jobs they are looking for.

A total of 67.1 percent of graduates said they do not believe the man of the household should necessarily be the breadwinner, but at the same time 69.1 percent said they would choose family over career if there were any conflicts in the future.

In terms of salary expectations for their first job, 41.7 percent said 2,000-2,500 yuan (US$ 327-408.75) and 37.5 percent said above 2,500 yuan (US$ 408.75). In addition, 42 percent said they would prefer to work in large cities, 36.2 percent in mid-size cities, and only 0.9 percent chose small and western cities.

A total of 7.9 percent of graduates say they are aware of employers' gender discrimination while job hunting.

A total of 25.6 percent of the students suggested improving the social security system to ease the employment difficulties of graduates, and 21.5 percent suggested creating and implementing employment policies on gender equality.

(Source: yangtse.com/Translated by womenofchina.cn)
Women Graduate Protests Against Employment Discrimination
A woman graduate recently demonstrated outside a government organization in south China's Guangdong Province, protesting against alleged gender discrimination in employment.
China Launches Women Graduate Entrepreneurs Fair
The Women Graduate Entrepreneurs Fair for 2013 (WGEF 2013) and the Forum for Entrepreneurship Education in Chinese Colleges, jointly hosted by the All-China Women's Federation (ACWF), China's Ministry of Education and Ministry of Human Resources and Social Security, were launched in Beijing on May 9, 2013.
Please understand that womenofchina.cn,a non-profit, information-communication website, cannot reach every writer before using articles and images. For copyright issues, please contact us by emailing: website@womenofchina.cn. The articles published and opinions expressed on this website represent the opinions of writers and are not necessarily shared by womenofchina.cn.