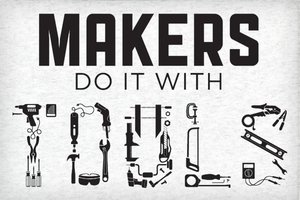 The term "maker" has become increasingly popular in China. [Photo/cnwomen.com.cn]
An e-commerce consultancy firm consistently produces striking daily sales figures of 5 million yuan (U.S. $780,000). Some 1 million yuan (U.S. $156,000) is achieved for them on vip.com, an online sales shopping mall every day and more than 1 million yuan (U.S. $156,000) is brought in every day on WeChat (a popular Chinese social messaging app).
The booming sales figures and huge number of clients are the impressive results achieved by Shu Chang, a woman born in the 1980s, along with the help of her 40 business partners.
On the country's numerous e-commerce platforms — fueled by the Chinese government's latest "Internet Plus" development strategy — a myriad of miracles take place every day.
Therefore, Shu and her associates named their company Qiji (a homonym for miracle) E-business Consulting.
When talking about entrepreneurship, Shu always has a lot to say. Although no one in her family has ever gone into business before, she has found herself totally absorbed in the field. She liked reading books on marketing and sales already whilst at university. The more cases she read, the more she itched to try and tap into the business sphere herself.
After saving several months of living expenses, Shu finally stocked her first goods by posting them on her university's BBS (electronic bulletin board system).
She also started a shop on Taobao, Asia's largest online trading platform, using the marketing skills she had built up in the library. By the time she reached her senior year of study, she had established her own processing workshop and had no less than eight booths at the local Olympic Square Electronic City shopping mall. At that time, all her classmates were still busy hunting jobs.
However, she had yet to realize her dream of entering one of the Fortune Global 500 companies. Consequently, she committed her workshop to the care of her partners upon graduation in 2006 and went to work at the IBM's Shenzhen branch following round-after-round of tough interviews.
From IBM in Shenzhen to Hewlett-Packard in Dalian, she accumulated bundles of working experience. With rich managerial expertise and program-related know-how, she was no longer satisfied with the establishment of a physical workshop. In 2010 Shu left HP and started a corporation in the real sense.
With her valuable experience in the first-hand operation of e-businesses, tough practice in the shopping mall market and highly efficient communication and management methods learned at the two Fortune-500s, Shu has developed a unique spectrum of e-business operation means. Her company provides a one-stop service for inexperienced factory owners who might otherwise have little knowledge of e-commerce.
Under the support of Liaoning Provincial Women's Federation, Shu was subsequently invited to train farm entrepreneurs on how to combine agriculture with the "Internet Plus" concepts in many cities in north China's Liaoning Provinces.
Shu has trained nearly a thousand people in total. Qiji E-business Consulting, with an impressive sales volume of its own as high as 56 million yuan (U.S. $8.75 million) in 2014, is exerting increasing influence upon start-ups.
Drawing on her years of experience in e-businesses and a sharp mind for the market, Shu set up another company at the end of 2014: Dalian Haipu Biotechnology.
"Mr. Beaver, the mascot of our proprietary brand Haipu, gained many fans within the first several months. The first 'Mr. Beaver' online-to-offline store will cooperate with Dalian Women's Vocational School, serving as an integration of the product manufacturer with a students' training base. It is expected that the new company will help hundreds of female students embark on the road of business start-ups and e-commercial consultancy in the next three years," Shu said with full confidence.
Now, the Qiji e-business consultancy remains steadily on track and Shu holds complete confidence in the new venture. "We have set a goal of achieving 20 million yuan (U.S. $3.12 million) by the end of 2015," she stated.
(Source: China Women's News/Translated and edited by Women of China)