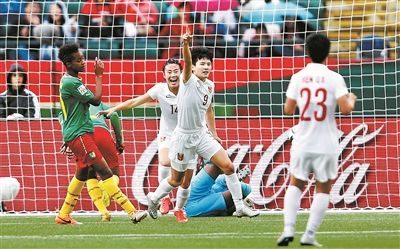 Wang Shanshan (M) celebrates after scoring a goal during the knockout match against Cameroon. [Xinhua]
Team China secured its spot in the quarter-finals of the Women's World Cup with a determinant goal from forward Wang Shanshan in the 12th minute, beating Cameroon 1:0 at the Commonwealth Stadium in Edmonton, Canada, on June 21.
Hailed as "little, sharp knife", Wang said that her team definitely expects to "move a step further" in a response to a question about their chances of triumph.
Wang, however, felt pity that she failed to seize several opportunities. "I am pleased that we are victorious, but I did waste opportunities," she said.
During the Group A match against New Zealand, the 25-year-old forced a 2-all draw with a goal that helped China qualify for the knockout stages.
Talking about the two key goals she contributed, Wang said that she had been in full preparation and would perform better and better in the next games.
Wang, from north China's Tianjin Municipality, is known for her quick reactions during matches. Her swift and precise moves have made her a challenging footballer to defend.
In August 2011, Wang made her international match debut at the World University Games in Shenzhen, south China's Guangdong Province, in 2011, playing for China's national female university students' football team.
In 2012, she played with the national women's team.
On June 27, China, ranked No. 16 in the world, faced the United States, which claimed a victory over Colombia on June 22.
Currently, team China is already in Ottawa where the match will take place.
(Source: People's Daily Online and Xinhua/Translated and edited by Women of China)