A Shanghai-based health research team has found that up to 14 percent of girls in mainland China may smoke, which is much higher than a figure announced earlier by Chinese authorities.

The two-year research, led by Ma Jin from the School of Public Health of Shanghai Jiao Tong University and sponsored by the Shanghai Municipal Government and the Bill & Melinda Gates Foundation, was based on a survey involving 11,104 students aged between 12 and 20 years (and their parents), from 68 schools in five Shanghai districts.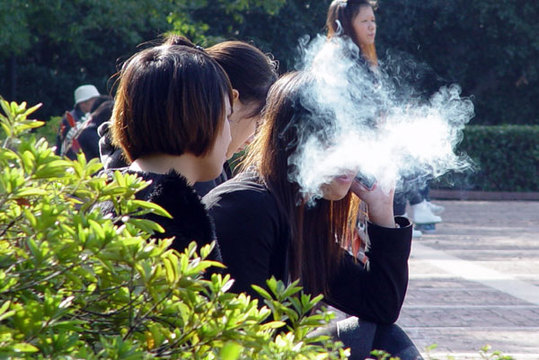 A young woman is obscured by a cloud of smoke as she enjoys a cigarette alongside a group of non-smokers in a park in Wuhan, capital city of central China's Hubei Province. [China Daily]



"We focused on young people's smoking activities because many smokers initiate this addiction when they are young," Ma said.

During the survey, Ma first asked interviewees to answer a questionnaire, which referenced a template on juvenile smoking behavior created by the World Health Organization (WHO). The results showed 13.6 percent of boys and 5.2 percent of girls smoked, but Ma considered these numbers were lower than the reality.

So his research team used a 'capture-recapture' method to adjust the results through resampling the schools and concluded that 18.3 percent of boys and 14.2 percent of girls smoked.

Ma's research results were published on The Lancet medical journal last month. In an article he wrote: "The actual number of smokers in China could be substantially higher than 301 million. Such underestimation could hinder our ability to assess the progress of current and future intervention efforts."

Ma also found only 2.9 percent of boys' parents and 0.6 percent of girls' parents in Shanghai knew their children smoked, much lower than the ratio in Western countries.

"Young students, especially girls, and adult women tend to cover up their identities as smokers because of pressure from society, which generally regards smoking as bad behavior for students and women," the Hong Kong based South China Morning Post said, in reporting the news on January 15, 2013.

According to the China's Tobacco Control Plan (2012-2015), issued by the State Tobacco Monopoly Administration and several other ministries in 2012, 11.5 percent of Chinese mainland teenagers smoked with 3.6 percent of girls and 18.4 of percent boys involved in the unhealthy activity.

(Source: cankaoxiaoxi.com / Translated by womenofchina.cn)
Please understand that womenofchina.cn,a non-profit, information-communication website, cannot reach every writer before using articles and images. For copyright issues, please contact us by emailing: website@womenofchina.cn. The articles published and opinions expressed on this website represent the opinions of writers and are not necessarily shared by womenofchina.cn.