As in many other countries and places, gay marriage is still illegal in China. However, in recent years homosexual rights groups have been more and more active in fighting for the legalization of gay marriage, with the result being that the Chinese public is becoming more aware and accepting of it.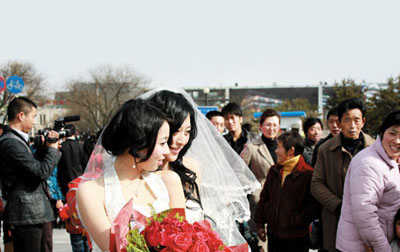 A homosexual couple Xin Di and Xiao Han in wedding dresses on the wedding ceremony held at Qianmen Street in China's capital city Beijing [qzwb.com]
One of these activities took place in Beijing in February 2009, when a few activists decided to stage a gay 'wedding' on one of the busiest tourist streets in the city, the historic Qianmen Street. The activity was orchestrated by a number of people, including two women, Xin Di and Xiao Han, and two men, Zhang Yi and Hai Bei.
Xin Di, 27, and Xiao Han, 24, both from southwest China's Sichuan Province, hugged each other, and said to the surrounding passers-by, "Welcome to our wedding ceremony."
Xiao Xian, one of the organizers of the activity, stood beside the two women and asked the astonished people passing by, "Would you attend a same-sex wedding ceremony if you were invited?". A middle-aged woman answered, flushed with embarrassment, "Yes, I will. Congratulations." Then she walked away quickly.
Sam, founder of Beijing lesbian publication LES+, was also one of the organizers of the activity. She stood beside the couple and distributed roses to the passers-by. Each rose had a piece of paper wrapped around it which said: "All people are equal, and love has no boundaries. As homosexual people, we hope that our love can receive the blessing of others and our relationships be protected by law. Please support all people in love and our efforts to achieve social equality. We hope that everyone who is in love receives the right to get married."
Although the activity was held to champion the legalization of gay marriage, the two couples who participated in the staged wedding ceremony that day were not actually real-life couples. The two men, Zhang Yi and Hai Bei, were not very well-acquainted, but each were in a same-sex relationship with other people.
One man asked Zhang Yi and Hai Bei, "Will your parents agree with your marriage?". Zhang Yi answered, "I can persuade them."
Being uneasy, the man was about to leave with his companion, a woman. Suddenly, the woman turned her head and said to the couple seriously, "I am firmly against you. You are a violation of normal human development."
In the face of this harshness, Zhang Yi and Hai Bei only smiled. They understood that the woman's reaction was far from unusual. The photographer who had been snapping photos of them asked them to pose as if one were proposing to the other. Hai Bei got down on one knee and presented a rose to Zhang Yi, who hugged and kissed him, raising a great reaction from the watching crowd. One woman fled the scene, saying repeatedly, "I can't stand it anymore."