Marissa Mayer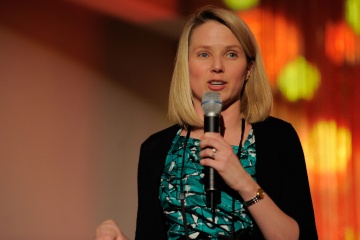 Then vice president of consumer products for Google Marissa Mayer speaks onstage at the FORTUNE Most Powerful Women Dinner New York City at Hudson Room at the Time Warner Center on May 24, 2011 in New York City. [time.com]
Marissa Mayer's appointment as CEO of Yahoo! was an exciting development for her legion of fans — both male and female. It was also an undeniable cause for celebration among those who would like to see more women in positions of power, not only in Silicon Valley, but throughout corporate America. In 2012, it's hard to believe that only 19 companies out of the Fortune 500 are led by women. The tech industry has made somewhat more progress than other sectors — at least at the very highest levels — as the accomplished and inspiring women on this list demonstrate. But there's still a troubling lack of women further down the corporate ranks. Claire Cain Miller of The New York Times recently described the challenges that women continue to face in the technology world.
There remain distressingly few women among Silicon Valley engineers, start-up entrepreneurs, venture capitalists and computer science and engineering majors, for reasons including the technology industry's girl-repelling image problem, the tiny number of powerful women role models and the insular Silicon Valley deal-making boys' club.
One hopes for a day not too far away when the appointment of a woman — yes, even an expectant mother — as CEO of a major American company is noteworthy not for gender, but for the executive's experience, accomplishments and track record of achievement. Hopefully one day soon lists like this one will no longer be necessary. But until then here is a collection of the most influential women in technology, led off by Mayer herself.
Even before she was named CEO of Yahoo!, Mayer was one of the most respected executives in Silicon Valley, but her appointment to lead the purple-hued Internet pioneer instantly makes her one of the most prominent female chief executives in the world. On Monday, shortly after her appointment was announced, Mayer — a 37-year-old self-proclaimed "geek," and Google's 2oth employee — revealed to Fortune that she is pregnant with her first child, due in October. An accomplished engineer with a keen eye for design, Mayer has built a reputation as a brilliant, intense, and tireless executive with a passion for improving "the user experience." In a classic example of her geekiness, Mayer famously informed a reporter several years ago that she was one billion seconds old (31.7 years).

Yahoo! disclosed Thursday that Mayer will receive a base salary of $1 million, with the potential for $15 million if she stays for 5 years. It's unlikely Mayer joined Yahoo! for the money, however. Thanks to stock options she received as one of Google's earliest employees, Mayer is worth an estimated $300 million. Earlier this year, she joined the board of directors at Walmart.

A Wausau, Wisconsin native, Mayer joined Google in 1999 after earning undergraduate and graduate degrees at Stanford University, where she specialized in artificial intelligence. Mayer was Google's first female engineer, and quickly took the helm of the company's user interface team, where she was instrumental in developing Google's iconic search box layout. She would eventually become responsible for many of Google's most successful consumer-facing products, including Gmail, Google News, and Google Maps. Industry observers greeted Mayer's appointment as Yahoo! CEO warmly, but the struggling tech giant faces a steep climb to return to its former glory.

Sheryl Sandberg
Sheryl Sandberg, chief operating officer of Facebook Inc., speaks during a session on day two of the World Economic Forum (WEF) in Davos, Switzerland, on Jan. 26, 2012. [time.com]
Longtime Google executive Sheryl Sandberg joined Facebook as Chief Operating Officer in 2009, and quickly established herself as one of the most powerful voices in Silicon Valley. Prior to joining Google, Sandberg was chief of staff for Clinton-era Treasury Secretary Larry Summers, who also happened to be one of Sandberg's professors at Harvard. (Sandberg won the John H. Williams Prize for the top graduating student in economics. She would also earn an MBA from Harvard.) Sandberg would later introduce Summers to Marc Andreessen, the billionaire co-founder of Netscape who now runs Andreessen Horowitz, one of the most influential venture capital firms in Silicon Valley. Summers now serves as a special adviser to AH; Andreessen is on Facebook's board of directors. Thanks to her Facebook stock options, Sandberg is estimated to be worth over $1 billion.

As COO of Facebook, Sandberg is widely credited with bringing a healthy dose of "adult supervision" to the company, which resembled a frat house in its early years. Over the last few years, Sandberg has become an inspirational role-model for her advice that young women should "lean in" to their careers. "Put your foot on that gas pedal and keep it there until the day you have to make a decision, and then make a decision," Sandberg told students during her 2011 commencement speech at Barnard. In addition to Facebook, (where she was recently appointed to the board of directors), Sandberg serves on the board of the Walt Disney Company, Starbucks, Women for Women International, the Center for Global Development and V-Day. Earlier this year, Sandberg was named to the Time 100, the annual list of the 100 most influential people in the world.

Virginia Rometty
Virginia Rometty, chief executive officer of International Business Machines Corp., attends a Business Roundtable news conference in Washington, D.C. on, March 7, 2012. [time.com]
Virginia "Ginni" Rometty's appointment as President and CEO of IBM in 2011 shattered the glass ceiling at one of the most storied companies in the world and an icon of American technology innovation. But her ascension as the first female CEO in Big Blue's 100-year history had "zero to do with progressive social policies," Rometty's predecessor Samuel J. Palmisano said at the time. "Ginni got it because she deserved it." A perennial fixture on Fortune's annual list of the most powerful women in business, Rometty was named to the 2012 TIME 100 list of world's most influential people. (None other than Marissa Mayer wrote Rometty's citation, calling her a "tremendous inspiration.")

A graduate of Northwestern University, where she earned a degree in computer science and electrical engineering, Rometty joined IBM in 1981. Two decades later, after rising through the corporate ranks, Rometty would play an instrumental role in IBM's $3.5 billion purchase of consulting firm PricewaterhouseCoopers, which was a key part of Big Blue's transition from hardware to services, a shift that has rejuvenated the Armonk, N.Y.-based tech giant. Rometty serves on the board of her alma mater Northwestern University, and is a member of the Board of Overseers at Memorial Sloan-Kettering Cancer Center in New York.

Meg Whitman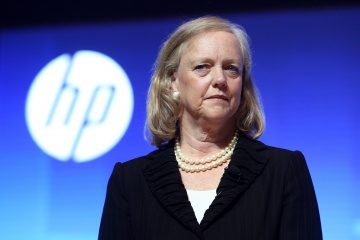 Hewlett-Packard President and CEO Meg Whitman looks on during the Global Influencer Summit 2012 in Shanghai, China on 10 May 2012. [time.com]
Meg Whitman, CEO of tech giant Hewlett-Packard, is one of the most experienced and respected corporate executives in the world — male or female. A native of Cold Spring Harbor on New York's Long Island, she studied math and science at Princeton and earned an MBA from Harvard Business School. She began her career at Proctor & Gamble in 1979, before moving on to increasingly high-level positions at Bain & Company, Walt Disney & Company, Stride Rite and Hasbro.

Whitman's career went into overdrive in 1998 when she joined a small online auction business with just 30 employees and $4 million in sales called eBay. Over the next decade, under Whitman's leadership, eBay grew into one of the most successful Internet companies in the world, with 15,000 employees and $8 billion in annual revenue. Whitman stepped down as eBay CEO in 2007, and in 2009 announced she was running for Governor of California in the 2010 election as a pro-business Republican. Despite spending over $140 million of her own money on the race, Whitman was defeated by veteran California politico Jerry Brown. In September of 2011, she was named CEO of HP. Whitman, a prominent supporter of Republican presidential candidate Mitt Romney, is frequently named as one of the most powerful women in global business.
Susan Wojcicki
WIRED Senior Writer Steven Levy and Susan Wojcicki, Senior Vice President of Advertising at Google attend the WIRED Business Conference Disruptive by Design in Partnership with MDC Partners at the Museum of Jewish Heritage on May 3, 2011 in New York City. [time.com]
Susan Wojcicki, senior vice president of advertising at Google, has been called "the most important Googler you've never heard of," but don't let her low-key style fool you — Wojcicki is a dynamo.

A graduate of Harvard University, Wojcicki earned two advanced degrees, one from UCLA, the other from UC Santa Cruz. Wojcicki played a key role in Google's creation story: In 1998, company founders Larry Page and Sergey Brin rented space in her Palo Alto, California garage for $1700 per month. (Needless to say, as Google's 16th employee, Wojcicki has been paid back).

Wojcicki would later play an instrumental role in two of Google's most important deals: the $1.65 billion purchase of YouTube in 2006, and the $3.1 billion acquisition of DoubleClick. Wojcicki is currently responsible for Google's most lucrative products, including the company's main advertising platforms AdWords and AdSense. Her particular focus these days is Google's mobile advertising efforts. Wojcicki's sister Anne, the founder of do-it-yourself DNA testing company 23andMe, is married to Brin. In 2011, Susan Wojcicki was named number 16 on Forbes' list of the most powerful women in the world.

Mary Meeker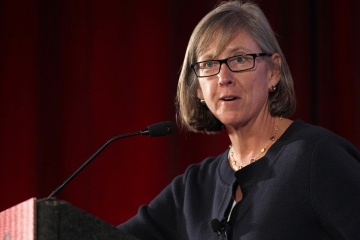 Mary Meeker speaks at the Web 2.0 Summit in San Francisco on Oct. 18, 2011. [time.com]
Mary Meeker, a Wall Street analyst turned venture capitalist, is quite simply one of the most respected Internet experts anywhere. As a Morgan Stanley technology analyst in the 1990s, Meeker achieved cult-like status on Wall Street for her visionary predictions of the scope and impact of the Web. A native of Portland, Indiana, Meeker graduated from DePauw University with a degree in psychology, and went on to earn an MBA from Cornell University. She started her career on Wall Street at Merrill Lynch before moving to Salomon Brothers, then Cowen, and ultimately Morgan Stanley, where she cemented her reputation as an Internet analyst par excellence. In the mid-90s, Meeker's "Internet Report" became known as "the Bible" for tech investors, but the subsequent dot-com crash dented her reputation.

In a lengthy Fortune profile in 2006, Andy Serwer chronicled Meeker's comeback and called her "absolutely first rate when it comes to spotting big-picture trends before they come into focus." In late 2010, Meeker left her role as head of Morgan Stanley's global technology research team to become a partner at Silicon Valley venture capital titan Kleiner Perkins Caufield & Byers. To this day, her annual Internet trends presentation is intensely scrutinized for its Delphic predictions about the future of the Internet.
Theresia Gouw Ranzetta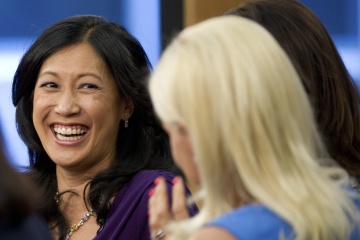 Theresia Gouw Ranzetta, partner with Accel Partners, left, laughs during the taping of "Women To Watch Round Table" for Bloomberg Television in San Francisco on June 13, 2012. [time.com]
Theresia Gouw Ranzetta, a partner at Silicon Valley heavyweight Accel Partners, is a rising venture capital superstar who has cemented a reputation as one of technology's top financiers. She received an undergraduate degree in engineering from Brown University, magna cum laude, and an MBA from Stanford University. Prior to joining Accel, Ranzetta was founding vice president of business development & sales at Release Software, a management consultant at Bain & Company, and a manager at Silicon Graphics. Recently, Ranzetta has been instrumental in building Accel's New York office, and told CNN in 2011 that she spends 100 days on the road per year as she travels between Silicon Valley and New York.

At Accel, where she was the only female partner until 2008, Ranzetta has been responsible for several of the firm's most successful investments, including Interlace Systems (purchased by Oracle), Xoopit (purchased by Yahoo!) and Zimbra (also purchased by Yahoo!). Ranzetta currently serves on the board of directors of several private Internet companies including Birchbox, Glam Media, LearnVest, and Trulia. Ranzetta also serves as a Trustee on the Brown University Corporation board, and sits on the board of directors at DonorsChoose.org. She's also a member of the Stanford University Graduate School of Business Trust.

Safra A. Catz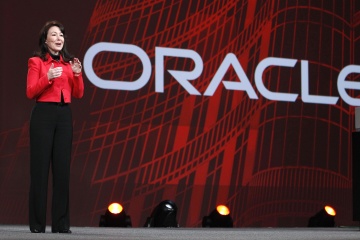 Safra Catz, co-president and chief financial officer of Oracle Corp., speaks during the Oracle OpenWorld 2011 conference in San Francisco on Oct. 5, 2011. [time.com]
Safra A. Catz has served as president of database giant Oracle Corporation since January 2004. In April 2011 she became the company's chief financial officer — for the second time in her career. (She also served as Oracle CFO in the mid-2000s). A native of Holon, Israel, Catz moved to Brookline, Mass. when she was six years old. Catz earned a bachelor's degree from the Wharton School at the University of Pennsylvania, and a law degree from the University of Pennsylvania Law School. In 2011, Catz was named number 11 on Fortune's list of the 50 most powerful women in business.

As head of the Oracle's mergers and acquisitions team, she was credited by Fortune with completing "80-plus deals valued at more than $43 billion in the [prior] six years." Perhaps not surprisingly, this top deal-maker earned a whopping $42 million in total 2010 compensation. Prior to joining Oracle, Catz worked at investment bank Donaldson, Lufkin & Jenrette, which later merged with Credit Suisse First Boston. At DLJ, which she joined in 1986, Catz was a managing director from February 1997 to March 1999 and a senior vice president from January 1994 to February 1997. Catz has two children with her husband, writer Gal Tirosh, whom she once credited with helping to enable her career by being a stay-at-home Dad.

Esther Dyson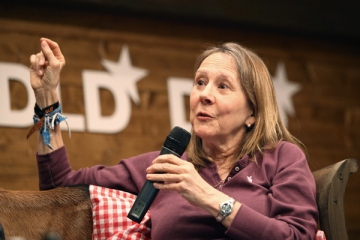 Esther Dyson speaks during the Digital Life Design conference (DLD) at HVB Forum on January 22, 2012 in Munich, Germany. [time.com]
Esther Dyson is a true Renaissance woman: Over the course of her distinguished career, Dyson has been a journalist, a Wall Street tech analyst, an entrepreneur, an author, an angel investor and a philanthropist. A graduate of Harvard University with a degree in economics, she started her career at Forbes, where she spent three years as a fact-checker/reporter in the mid-1970s. She later worked as a tech analyst at Oppenheimer before joining Rosen Research. She bought the firm from her boss in 1983 and renamed it EDventure Holdings; it ran the PC Forum conference and published the Release 1.0 newsletter until 2007 (after it was acquired by CNET and subsequently shut down).

Widely regarded as a digital visionary and innovation evangelist par excellence, Dyson spends most of her time with the many startups she has invested in, including 23andMe, Airship Ventures, Evernote, Meetup, Voxiva, XCOR Aerospace and Yandex. She briefly served as chairwomen of the Electronic Frontier Foundation, a nonprofit civil liberties organization. She was also the founding chairman of ICANN, the Internet Corporation for Assigned Names and Numbers, the group that administers the Internet's domain name system. Dyson has recently become a high-profile critic of ICANN over the group's expansion of generic top-level domains (gTLDs), which drastically increases the level of domains to include .technology, .computers, and .anything. Dyson also serves on the boards of the Sunlight Foundation, The Long Now Foundation, and the Eurasia Foundation. She is currently focused on health technology, space travel and Russia and has a variety of investments in those areas.

Kara Swisher
Kara Swisher [time.com]
What can you say about Kara Swisher? A superstar technology journalist with a renowned work-ethic that would break lesser mortals, Swisher is co-executive editor of All Things Digital, a leading tech news site and conference organizer that she runs with her colleague Walt Mossberg. Were Swisher simply a top tech reporter at The Wall Street Journal, where she pioneered coverage of the Internet in the 1990s, she would be a one-woman wrecking crew. But over the last several years, Swisher has assembled a cadre of younger gumshoes who have turned AllThingsD.com into tech journalism's A-Team.

Every year, Sillicon Valley's top executives dutifully appear at the All Things Digital conference in California for a ritualistic — but good-natured — grilling by Swisher and Mossberg. Swisher's legendary interviews are too numerous to mention, but a standout moment was bringing Apple co-founder Steve Jobs and Microsoft co-founder Bill Gates together on stage in 2007 for a landmark joint session. She also made Facebook founder Mark Zuckerberg sweat so hard in 2010 that he felt compelled to do the unthinkable — take off his signature hoodie. Also too numerous to mention: Swisher's list of notable technology scoops. Swisher is arguably the best-sourced reporter in Silicon Valley — for awhile, it seemed she was embedded in Yahoo!'s boardroom. Perhaps best of all: despite her high-profile stature, Swisher conducts herself with great humor, and she's always willing to offer advice to younger reporters, many of whom revere her for her distinguished record of achievement. Swisher earned a masters degree from Columbia University's Graduate School of Journalism in 1985.

(Source: time.com)