The Committee of Match-making Service Industries of China Association of Social Workers and Baihe website released their co-produced Chinese Marriage Situation Survey Report 2011 yesterday.

The survey, a result of 50,384 questionnaires, reports that 92% of women think that a stable income is necessary for marriage and approximately 70% of women think that men should only get married after buying their own housing properties.

The survey shows that about 80% of the single women interviewed think that it's reasonable for men to only consider a relationship if they receive a monthly income of above 4,000 yuan (US$635), representing an increase of more than 10% from the 2010 results. Of the 80%, a full 27.1% think that a man should only consider a relationship if he achieves a monthly income of above 10,000 yuan (US$ 1,857).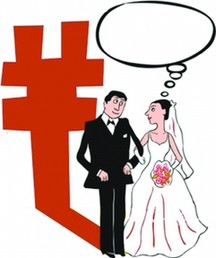 [China Daily]

Meanwhile, 57% of female interviewees agree that marrying a good husband is preferable to building a career, representing a decrease of 14% from 2010.

Secretary General for the Committee of Match-making Service Industries of China Association of Social Workers Tian Fanjiang points out that Chinese people are becoming more realistic with regards to marriage, although high income and property possession are still the main requirements.

The Third Judicial Interpretation on the Application of Marriage Law, issued by China's Supreme Court last year, focused on the explanation of certain issues such as financing house purchasing before marriage through loans.

The survey shows that only 7.5% of the interviewees were unaware of the Third Judicial Interpretation on Application of Marriage Law, while more than 90% of interviewees were familiar with it.

Approximately 40% of men interviewed said they would be unwilling to add their wives' names to house property ownership certificates while conversely, 40% of women have asked their husbands to do so. The report also shows that 50% of the women interviewed expect men to pay at least the down payment if not the full payment for house purchases.

The survey also shows that brief marriages and divorce are both on the rise. About 50% of the single people interviewed testified to the existence of flash marriages amongst their friends or relatives while 21.7% have known of couples divorcing after only half a year of marriage. Additionally, 32.8% of interviewees have witnessed flash divorces.

Secretary General of China Association of Marriage and Family Studies of All-China Women's Federation Fan Aiguo says that society is growing increasingly tolerant of different social norms such as flash marriages and divorces.

The survey shows that "leftover" men and women (single people above the age of 27) harbor reservations about marriage. A full 44.8% of interviewees are apprehensive when it comes to marriage due to the high divorce rates, 41.7% fear losing their freedom, 37.5% are afraid of shouldering family responsibilities and 30.6% are worried about housing situations. Some interviewees have expressed fear of getting into situations where they might be vulnerable to domestic violence.

Statistics show that about 70% of interviewees who chose a "flat marriage" (getting married without a house, car, diamond ring or elaborate wedding ceremony) are satisfied with their lives.
According to the survey, women are becoming more independent, with 30% saying that they are unconcerned about who picks up the tab on dates and only 26.1% think that men should pay the bill. A good proportion of women are in favor of splitting the bill.

Experts have concluded that women are becoming increasingly independent economically and mentally. It is clear that the women of today are very capable of enjoying their lives with or without partners.

(Source:ifeng.com/Translated by womenofchina.cn)
Please understand that womenofchina.cn,a non-profit, information-communication website, cannot reach every writer before using articles and images. For copyright issues, please contact us by emailing: website@womenofchina.cn. The articles published and opinions expressed on this website represent the opinions of writers and are not necessarily shared by womenofchina.cn.