Qian Xuesen, a rocket scientist widely known as the "Father of China's Space Technology Program", died at the age of 98 on October 31, 2009 in Beijing.
Qian, born in Hangzhou, capital of east China's Zhejiang Province, was a major figure in the missile and space programs of China.
Qian Xuesen and Jiang Ying in 1993


Qian, a member of both the Chinese Academy of Sciences and the Chinese Academy of Engineering, graduated from Shanghai Jiao Tong University in 1934. In 1935, he went to study in the aviation department of the Massachusetts Institute of Technology and later studied aviation engineering at the California Institute of Technology. In 1939, he received a doctorate in aviation and mathematics. He co-founded the Jet Propulsion Laboratory in the United States. In 1955 he returned to China. He played a significant role in developing the country's missile and aviation programs.

His wife Jiang Ying is also a legendary figure in China. She is a famed opera singer and musice educator in China. Jiang is half Chinese and Japanese descent. Her father Jiang Baili is one of leading military strategists of Chiang Kai-shek and her mother is a Japanese Satô Yato. Jiang is also a cousin of famous novelist Jin Yong who also came from Haining of Zhejiang.
Jiang Ying at young age [File Photo]
In 1936 Jiang went to Europe with her father and studied music in Berlin. Jiang graduated from Hochschule für Musik Hanns Eisler Berlin in 1941. When World War II in Europe broke out, Jiang had to move and further studied opera in the neutral Switzerland. Jiang graduated from Musikhochschule Luzern in 1944.
In 1947 Jiang married Qian Xuesen whom she has known well and liked from childhood in Shanghai.
Jiang went back to China (at that time Republic of China) after study and held her first performance in Shanghai on May 31, 1947. Jiang went to the United States in 1947.
Qian Xuesen and Jiang Ying [daynews.com.cn]


Jiang came back to China together with Qian in 1955. Jiang became a professor of music and opera at Central Conservatory of Music, Beijing.

In her teaching career Jiang taught 26 students who are now famous sopranos or educators in music. Love never faded among the couple who supported each other in the past 60-year marriage.

Qian once said the music Jiang brought to him has broadened his mind and help him greatly in his research.

Qian and Jiang have one son and one daughter. Qian Yonggang, graduated from California Institute of Technology, US is a software engineer and part-time professor of Shanghai Jiaotong University. Their daughter Qian Yongzhen is also a music educator.

Diamond Darby and Joan

File photo

Qian Xuesen and his wife Jiang Ying were married for 62 years. If they were from the West, they would have celebrated their Diamond Wedding anniversary two years ago.

Qian's father Qian Junfu, a teacher, and Jiang Ying's father, military strategist Jiang Baili were close friends. As Qian Xuesen's parents longed for a daughter as a companion to their only son, both families agreed that Qian Junfu and his wife should foster Jiang Ying, the third of Jiang Baili's five daughters.

The late Qian Xuesen, born in 1911, is eight years older than Jiang Ying. When she took the role of his younger sister Jiang's name was changed to Qian Xueying. But after a few months Jiang Baili and his wife missed Jiang Ying too much to let her carry on living away from them.

Qian Xuesen went to study aviation engineering in the U.S. in 1935, and Jiang Ying later went to Germany with her father to study music. They had no contact for more than a decade, but often thought affectionately of one another. Qian Xuesen met up with Jiang Baili during an inspection tour in the U.S. When he saw Jiang Ying's picture in her father's office, he came to a momentous decision.

Qixi Festival, on the seventh day of the seventh lunar month, is the Chinese equivalent of Valentine's Day. It was in Shanghai on Qixi of 1947 that Qian Xuesen proposed to Jiang Ying.

He told her, "Ying, I've thought about you a lot in 12 years we've been apart and become adults in foreign countries. The reason I came back is to take you with me to the U.S. Will you?"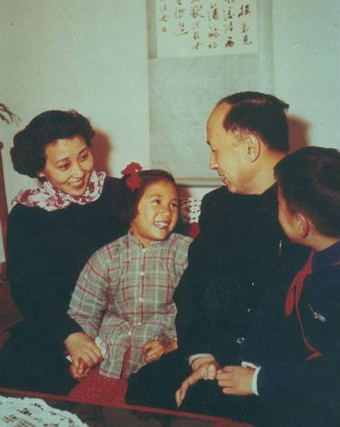 Qian Xuesen and Jiang Ying with their children[voc.com.cn]


Qian Xuesen and Jiang Ying married in Shanghai and flew, days later on September 26, to Boston. Qian's gift to his bride was a grand piano, which stood in the living room of their new house in Boston.

Qian Xuesen made prominent achievements in American aviation and rocketry, to the extent that the US government refused his request in 1950 to go back to China.

It was not until October 1955 that the couple was finally able to return. Qian has since focused his energies on China's aerospace science and technology. He has since become known as the father of China's space and missile programs.

After a brilliant career in opera, Jiang Ying became a professor of music and opera at the Central Conservatory of Music in Beijing.


When asked what has sustained her affection for Qian for more than six decades, Jiang Ying answers, "I admired as well as loved my husband. He became a professor at 36 and was a good and kind man."

Qian and Jiang's marriage was built on mutual appreciation and support, as well as immense respect. They were in all respects a Chinese Darby and Joan-one that the Chinese people regarded as an ideal match.

(Source: Xinhua/ Edited and Translated by womenofchina.cn)