Women and Population

3.Members of the population aged 14 and under accounted for 22.9 percent; the population aged 15-64, 69.99 percent; and the population aged 65 and over, 7.09 percent.
4.In 1995, there were 70 million poverty-stricken people who did not have enough food. By 2001, however, that number had fallen to less than 30 million, and 60 percent of those people were especially poor. They included people who needed family support and social relief.
Women and Economy


2. In 2001, there were 730.25 million employees in the country. Women accounted for 37.4 percent in enterprises, 44.1 percent in institutions, 24.8 percent in state organs, Party and government departments and NGOs, 42.7 percent in service trades, and 57.5 percent in the sectors of public health, physical culture and social welfare service. Among the 6.81 million registered unemployed people in cities and towns, women totaled 49 percent, and the rate was 3.6 percent.

3. From 1998 to 2002, women's federations at all levels issued a combined 950 million yuan in micro credit to poverty-stricken rural women. As a result, more than 2 million rural women shook off poverty.
From 1995 to 2002, women's federations at all levels established a 204-million-yuan micro credit fund to help urban women become reemployed. At present, the initiative has been launched in 23 provinces, autonomous regions and municipalities.
Women and Politics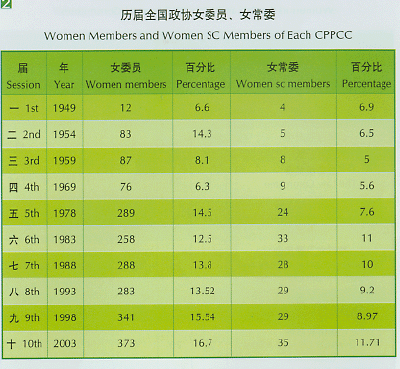 7. China has 3 women vice-chairpersons of the NPC Standing Committee(He Luli, Gu Xiulian and Wu yun Qimuge); 1 woman viced-premier (Wu Yi); 2 women vice-chairpersons of the CPPCC National Committee(Liu Yandong and Hao Janxiu); 1 woman state councilor(Chen Zhili).
There were 48 women in the ministry- or commission-level leading groups of departments under the Party's Central Committee and the State Council; 56 women in the leading groups of 31 provinces, autonomous regions and municipalities directly under the Central Government; 647 women in the leading groups of 396 municipalities, prefectures and leagues; and 4,353 women in the leading groups of 2,813 counties, county-level municipalities, districts and banners.
Women and Science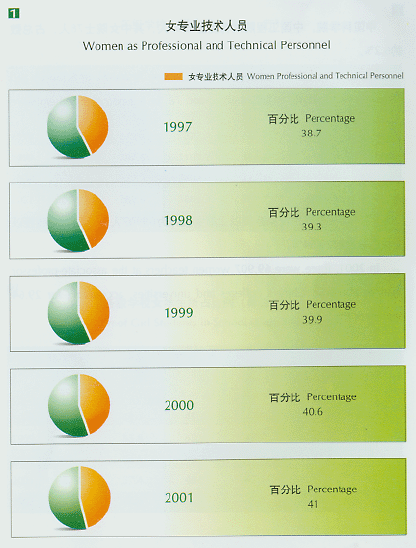 2. There were 1,263 academics in the Chinese Academy of Sciences and the Chinese Academy of Engineering, and 78, or 6.2 percent, of them were women.

3. In 2001, there were 69,907 women teachers at the associate-professor level or level or above in China's colleges and universities, accounting for 29.64 percent of the total.

Women and Education


6. In 2001, the proportion of schoolchildren entering junior middle schools was 95.5 percent, and the proportion of students of junior middle schools entering senior middle schools was 52.9 percent.

7. In 2001, there were 111,706 kindergartens in China with 861,700 staff members and 20.22 million children. There were 1,531 special-education schools with 386,400 blind, deaf-mute and mentally challenged students.

8. According to the fifth national census, conducted in 2000, China had 86.99 million illiterate people, or a 9.08-percent illiteracy rate. Among the 61.81 million illiterate adult women, there were 15.03 million illiterate young and middle-aged women, or a 4.21-percent illiteracy rate.

9. In 2000, women received on average 7.07 years of education. The education gap between men and women had been reduced from 1.4 years in 1995 to 1.07 years in 2000.

Women and Health Care

6. There were 160,000 gynecologists, obstetricians and pediatricians, 42,000 midwives and 227,000 rural midwives in China by 2001.

7. By 2000, China had 17,000 comprehensive hospitals with birth control sections, 306 prefectures and municipalities with birth control services, and 41,086 stations and clinics specially designed for birth control care. Meanwhile, there were more than 60,000 comprehensive hospitals, hospitals for mother and child care, hospitals for gynecology and obstetrics and small hospitals offering birth control care, and more than 500,000 persons working in birth control care either full-or part-time. Information networks for childbearing-age women were formed in all parts of the country, and the proportion of pregnant and lying-in women care surpassed 86 percent.
Marriage and Family

2. By the end of 2001, China had 351.23 million households with the average number,3.46, members.

Women's Federations

1. There were 52,529 full-time staff members working with the All-China Women's Federation and local women's federations at all levels.

2. In China, there are 435 prefecture- or municipality-level women's federations; 48,066 township- or neighborhood-level women's federations; 73,885 basic women's representatives' committees in urban areas; 611,734 basic women's representatives' committees in rural areas; 48,516 working committees on women's issues in offices of all levels; 24,599 women's committees in institutions and women's organizations in colleges and universities; 233,514 women workers' committees; 32,157 women's organizations in non-public-economy groups; 1,212 women's NGOs registered with the Ministry of Civil Affairs; and 1,392 women's committees in democratic parties.

3. The All-China Women's Federation has 16 group members.

4. The All-China Women's Federation and local women's federations administer 46 publishing units-which print 7 newspapers and 59 magazines. Most of the publications are in Chinese. The rest are in English, Mongolian or Uygur.

5. The All-China Women's Federation has established friendly relations with 697 women and children's organizations in 151 countries and regions.

Note:
With the exception of the special explanations, all data in this book predate the end of 2002.
The information was compiled for the following:
Organization Department of the CPC Central Committee
National Bureau of Statistics
"Report on the Social Status of Women in China (the Second Issue)"
"Final Report of Monitoring and Evaluation on Implementation of the Program for the Program for the Development of Chinese Women (1995-2000 ) "
ACWF Human Resources Department
ACWF Information Center