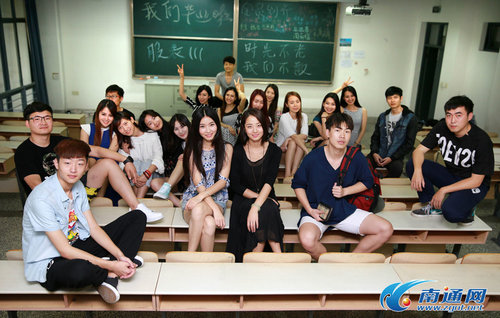 College students [Xhby.net]
A whopping 80 percent of Chinese college students report feeling more motivated to study and enjoy life when being in a romantic relationship, according to a new survey. The study also shows that over 60 percent of the students would consider getting married with their college sweethearts after graduation.
The survey, conducted by China Youth Daily and involving 1,498 university students across China, set out to understand the views of the country's youth on love and relationship during college years.
According to the survey, most students are in favor of dating on campus. Over 60 percent of the students said it's normal to have a romantic relationship at college, and nearly 40 percent showed strong support for dating on campus, believing falling in love is an integral part of university life and "a precious life experience."
"It's a wonderful thing to meet the love of your life in college," a junior student named Jiang Xinchi at Sichuan Agricultural University told China Youth Daily.
"As college students, we've grown to be mentally mature. We have freedom over our time, and our parents don't oppose us dating. It's the perfect time to enjoy dating."
In contrast, only two percent of students said they are against dating on campus because "it negatively impacts academic life and is a waste of time."
Among the 1,498 respondents, one third said they are currently in a relationship. Around 50 percent are single, either having just gotten out of a relationship or still waiting for the right person. Ten percent, however, claimed they don't plan to date during their college years.
When choosing a partner, neither personality nor physical appearance seems to matter to students.
"A person's morals and characters come first, and then looks and personality," Zhu Jingyi from Nanjing Normal University said. "I'll also consider their professional competence and future potentials."
When asked about balancing romance with studies, about 80 percent of the students believed that having a romantic relationship helps them feel motivated to study harder and live happier.
But if they had to choose, however, half of the respondents thought success in academic life is more important, given that achievements in school and career will help forge romantic relationships later in life.
"Being in love makes me feel more motivated in academic life, because both of us can encourage and inspire each other," Zhang Zicheng, a student from Yunnan Normal University said. "A healthy relationship helps two people grow. On the contrary, if you fail to handle the relationship, it will be a distraction, a waste of time and causes your grades to fall."
(Source: China Daily)