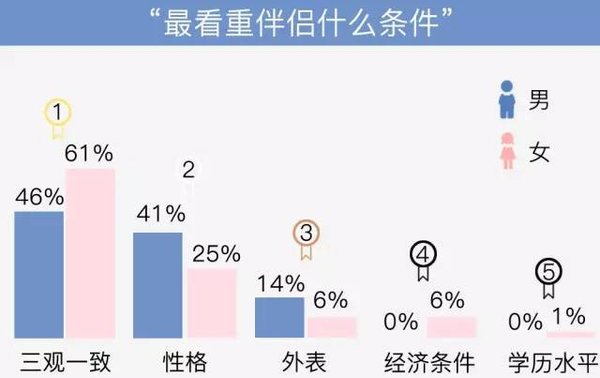 The chart indicates that when finding a spouse, China's 'Generation-Z' prefer to choose people with the same views on life, a good personality and a great appearance. [cyol.net]
Most young adults in China want to find partners who share the same values and views on life as them, according to the latest survey on the country's so-called "Generation Z" (people born in and after 1995).
The term refers to those around 22 or younger, who grew up against the background of China's rapid economic growth in the process of globalization.
Perhaps surprisingly, when asked "What is important when choosing a partner?", instead of a high educational level, satisfying economic conditions or good looks, respondents said holding similar views towards life was most important.
Sharing the same view of the world refers not to sameness in various aspects, but rather inclusiveness and appreciation, according to the findings.
For instance, men showed a preference for playing sports but also supported their partners in reading books.
Those men who liked to stay at home also liked to listen to their spouses sharing interesting stories during past trips.
In other words, to get along well, couples can have various tastes and interests but should hold a mutual understanding, say the authors.
In particular, respondents stated that views on consumption mattered greatly. Different values related to shopping can easily cause conflicts between couples or even lead to breakups, said some respondents.
(Source: CYOL/Translated and edited by Women of China)