The bar chart shows that, confronted with a premarital pregnancy, most respondents approved of giving birth to the child and getting married, with 86 percent of men and 66 percent of women holding the view. [Yangcheng Evening News]
Most young entrepreneurs in China are eager to fulfill their own personal values by starting businesses, according to a recent report into the behaviors and situation of the country's so-called "Generation Z".
The term refers to the group who are around 22 or younger and who grew up against the background of China's rapid economic growth in the process of globalization and the information age.
The development of the Internet and social media has changed the way they obtain information and see the world, say experts.
Entrepreneurship and Investment
When surveying Gen-Z college students who went down the route of usual employment, about 37 percent said they were interested in entrepreneurship despite lacking practice.
In terms of the reasons for their preference, 71 percent cited "flexible working times" while 58 percent highlighted "earning more money".
Conversely, about 40 percent of wannabe entrepreneurs polled said that although this route entails many risk, they preferred to "have a try", whereas the percentage of those who have not started businesses yet was 16 percent.
The most worrying issues for respondents who refused to venture out on their own are "lacking necessary interpersonal relations" (85 percent), "lacking startup capital" (77 percent) and "lacking professional knowledge and skills" (69 percent).
In terms of the situation, 77 percent suggested authorities enact preferential policies to support and motivate younger generation's entrepreneurship.
When asked about the motivation for college students to start businesses, a large number of entrepreneurs cited "self-realization", accounting for 90 percent. Only one fifth made the choice due to overwhelmingly economic factors.
In addition, a majority of respondents (77 percent) stressed the significance of teamwork while only a minor proportion held the opposite opinion.
Findings also indicated that compared to other groups, entrepreneurs preferred to follow the hedonistic consumption model, focusing on shopping for an experience of pleasure instead of utilization.
Also, they tended to purchase financial products with higher risks such as stocks, funds and futures.
Marriage and Babies
According to a survey polling 500 students studying in China's prestigious universities in April, about 72 percent of male respondents said they will definitely get married in the future while the proportion for women holding the view was 51 percent.
In addition, men surveyed who felt confused about their future marriage status accounted for 7 percent and the percentage of female counterparts was 4 percent.
In terms of the proper marriage age, 74 percent chose "26 to 30" with only one percent for "over 36".
The survey also found that roughly 60 percent of respondents approved of premarital sex and, among them, male students expressed the opinion more than women.
Confronted with the premarital pregnancy, over 75 percent of respondents approved to "keep the baby and get married", with 86 percent of men and 66 percent of women holding the same view, says the report.
Instead of holding wedding ceremonies, 54 percent of the respondents preferred "a honeymoon".
In terms of the so-called "naked wedding" trend, which refers to a marriage between two people who marry for love without purchasing a house and car, a large number of the respondents said "it was okay". Among them, the proportion of men was twice the percentage of women.
About 40 percent of women could accept a pre-marital property notarization whereas the proportion for men was 28 percent.
With the adoption of the Universal Two-Child Policy, about 68 percent of male respondents were willing to have a second baby, with women accounting for 52 percent, according to the report.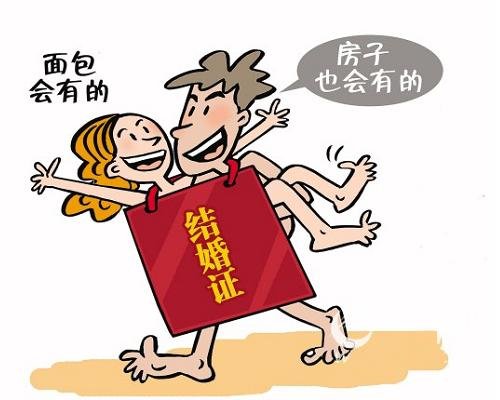 In terms of the so-called 'naked wedding' trend, which refers to a marriage between two people who marry for love without purchasing a house and car, a large number of the respondents around 22 or younger said 'it was okay'. [finance.china.com.cn]
(Source: Yangcheng Evening News/Translated and edited by Women of China)