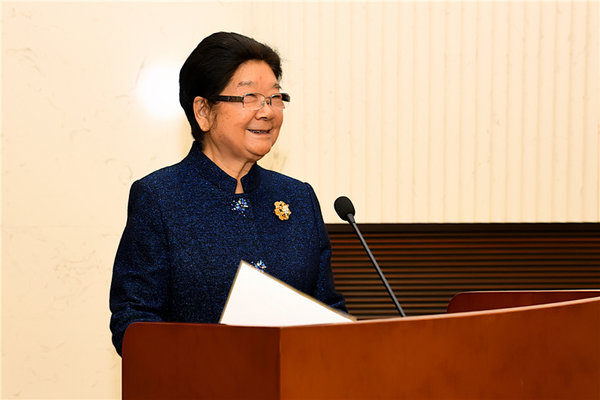 Gu Xiulian, director of the China National Committee for the Wellbeing of the Youth and vice-chairperson of the Standing Committee of the 10th National People's Congress, delivers a speech. [Women of China/Zhang Ping]
The China Family Culture Research Society (CFCRS) and Chinese Women's Magazine held a press conference on May 9 to release the findings of a survey and research anthology called Good Mothers Passing Down Fine Family Culture.
Gu Xiulian's Remarks
Gu Xiulian, director of the China National Committee for the Wellbeing of the Youth and vice-chairperson of the Standing Committee of the 10th National People's Congress, gave a keynote speech at the event.
She spoke highly of the researchers' "solid and down-to-earth scientific attitudes" and expressed congratulations on the organizations for the successful publishing of the book.
The survey took three months to complete after the questionnaire went through five revisions.
Gu further stressed the expectations of President Xi Jinping regarding the of strengthening of family education and culture towards the Party and society as a whole.
In Xi's remarks, he referred to the family as the basic "cell of society" and said it is an important foundation for national development, progress and social harmony. He said family virtues from the fine traditional Chinese culture can be regarded as a spiritual treasure for the construction of household civility.
Since the family plays an indispensable role in everyday life, as well as social and civilizing aspects, promoting positive family culture is fundamental for the implementation of core socialist values and the formation of social ethos, according to Xi.
To achieve these aims, authorities, media organizations, related departments and academic research organizations should focus on the improvement of parents' qualities and responsibilities, said Gu.
In particular, Gu called for staff members at the CFCRS and the magazine to follow Xi's instructions and make contributions to promoting new trends in socialist family civility including patriotism, intimacy and compassion, devotion to progress and kindness and mutual building and sharing.
In addition, she expressed confidence that the related survey and research would impress the public and help Chinese women fully understand their unique responsibilities in carrying forward traditional family virtues and setting up fine family culture.
Hong Tianhui's Remarks
Hong Tianhui, chairperson of the CFCRS and former vice-president and member of the Secretariat of the All China Women's Federation (ACWF), also delivered a speech.
According to her, the latest survey is an extension of the Survey on Fine Family Traditions in Urban and Rural Families conducted in 2015, which showed 87 percent of respondents believed that motherhood played a significant role in the inheritance of family culture.
1) Contents, Methods and Effects of Family Culture Education
Hong briefly introduced the basic conditions of the respondents of the survey in terms of age, marital status, employment, educational attainment and other aspects. The average age of women surveyed was 35.8 and 95.7 percent had children.
The survey showed that, regarding moral education, mothers put great emphasis on children's characteristics such as integrity (68.6 percent), frugality (66.7 percent), decency (57.6 percent), family unity (56.2 percent) and obedience (40.6 percent).
When examining the effects, findings indicated that though about one in five respondents said some family traditions were outdated (22.2 percent) or felt rebellious towards some teaching methods (20.1 percent), the majority consented on expressing its positive impact.
Specifically, nearly 70 percent said that the teachings of their mothers had imperceptibly become their own behavioral code, and 60.8 percent regarded it as a lifelong benefit.
Regarding the teaching of family tradition, results presented the importance of both inheritance and creativity. About 78 percent of respondents were taught by their parents to be trustworthy, and nearly 70.6 percent were educated to respect elders and treat people politely and modestly.
Meanwhile, over half (51.2 percent) were asked to think independently and speak up about their own opinions.
In terms of methods to educate family traditions, a large number of mothers tended to set themselves as positive examples or tell children reasons or their specific actions, both accounting for 68.1 percent. About 56.7 percent chose to encourage children when they were well behaved and 30.4 percent liked to guide their children to learn from classic works of literature.
Over 20 percent of mothers, however, still utilized rigid methods including imposing penalties, criticizing, scolding, threatening and beating children when they made mistakes.
Hong also noted that the main channels for the respondents to acquire related information on how to teach children family culture are "communicating with peers" (63.9 percent), "self-learning via newspaper and books" (58.4 percent), and "getting information on social networks" (46.5 percent).
Other approaches included instruction from elders (37.3 percent), TV and radio (29.6 percent), or specialist consultants (11.7 percent), according to the survey.
2) Evaluation of Mother's Family Culture Education
When asked to self-evaluate their performance as mothers, the majority of respondents believed they were devoted and competent. Also, many felt the positive effects of family culture education. Despite there being a wide range of satisfaction, only 7.1 percent held a negative or uncertain attitude.
In particular, findings showed that women who worked as a governmental official or a civil servant with higher educational attainment, higher income and who used to live in urban cities as minors tended to give a higher self-assessment.
Regarding the criteria of being a good mother, the survey summarized the top eight characteristics. Over half of respondents chose "accompanying children growing happily" (75.7 percent),"living a life with passionate and optimistic attitudes"(67.5 percent) and "being role models" (57.2 percent).
Other characteristics mentioned included: "observing laws and discipline", "subjectivity and financial independence", "playing the role of a dutiful daughter, a good wife, a loving mother as well as a kind neighbor", "able to deal with the relationships among family members and create fine family culture" and "looking after children thoroughly".
In addition, Hong presented both the "pros and cons" of mothers' education.
On the one hand, mothers, as role models, cultivate morality and proactively guide children to obey the social order. Also, they are good at creating harmonious family atmosphere and trying out more effective ways to strengthen continuous learning and reflection instead of forcible indoctrination.
On the other hand, in terms of the shortcomings, nearly 60 percent pointed to mothers' lack of the application of solid educational methods and around 35 percent claimed their over-protection sometimes led to children's lack of independence. About 26 percent pointed to issues on centralizing children's feelings or ignoring their moral development.
3) Issues and Suggestions on Current Family Culture Construction
The survey further pointed to some current issues in terms of the family culture construction. About 54 percent of the respondents said "over-stressing about children's daily care and intelligent development, but ignoring the cultivation of family virtues and behaviors" was common, and 46.2 percent said an unhealthy social ethos had a negative impact on the effects of family tradition construction.
Around 45 percent pointed to children's lack of humility when getting along with others and 38.7 percent noted the absence of fathers.
Confronted with the situation, a large proportion of the respondents were eager to take advantage of related assistance.
About 68 percent wished to gain effective age-appropriate teaching methods. Nearly 48 percent said specific case studies and materials would be helpful. Some 37 percent would like to have a better understanding of the core contents (37.5 percent) and to have access to related videos and resources on inheriting family virtues (36.7 percent).
To receive more resources relevant to family tradition education, assistance is needed via various channels including educational public service centers, social networks, TV and radio, related books and magazines, public lectures, interactive activities in communities and authoritative brochures.
According to the results, experts put forward several tips on building valued family traditions, said Hong.
Specifically, it suggested mothers improve their qualities for laying the foundation of passing down family virtues, developing the core contents of Chinese fine family traditions.
Meanwhile, related departments ought to publicize reading and video materials on the education of family traditions to the public.
Authorities should also provide targeted social support and public services for low-income families and disadvantaged families.
Officials should increase the participation rate of family members, especially fathers, in family education.
Aiming to provide first-hand references for future studies and offer guidance and services to various groups, the survey also conducted some comparative and cross-disciplinary analysis on motherhood education and the inheritance of family virtues regarding employment, generation, educational attainment, age, income and other aspects, Hong noted.
Other Remarks
Aside from these, Cheng Menghui, vice-president of the CFCRS and chief-editor of the Commercial Press International Company, delivered a speech on the theme of "Passing Down Chinese Fine Family Culture" and spoke highly of the research anthology.
Cheng introduced the book, in which 36 authors in various fields share their various personal experiences and feelings on "mothers" and "family traditions". He stressed that unique family culture, as a fundamental part of building a harmonious society, as formulated by family mottoes and discipline, has been passed down for generations and become a necessary part of people's daily lives.
In particular, he shared several touching stories written by celebrities such as Chi Haotian, a general of the People's Liberation Army (PLA) and former Minister of National Defense of China; Lao She, a renowned Chinese novelist and dramatist; and, Chen Kun and Tong Dawei, famous Chinese actors at the press conference.
Speakers also included Tian Yongqing, former commissar of PLA's General Staff; and, Wang Manman, general manager of Beijing Tangsong Culture and Communication Company.
Han Xiangjing, vice-director and secretary-general of the China Family Culture Research Society presided over the conference.
Senior officials of the CFCRS, the Chinese Women's Magazine and the ACWF; and, journalists from media organizations from Beijing and the State attended the gathering.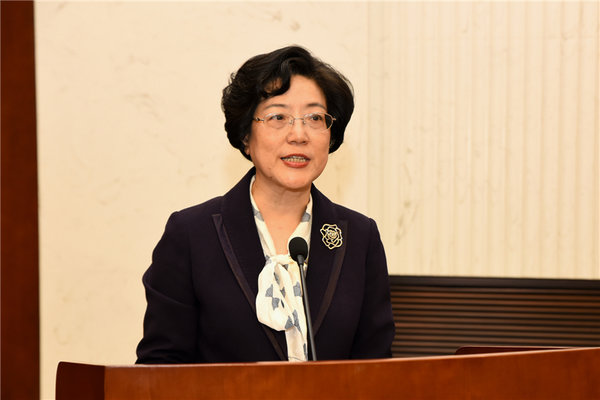 Hong Tianhui, chairperson of the CFCRS and former vice president and member of the Secretariat of the All China Women's Federation (ACWF) delivers a speech. [Women of China/Zhang Ping]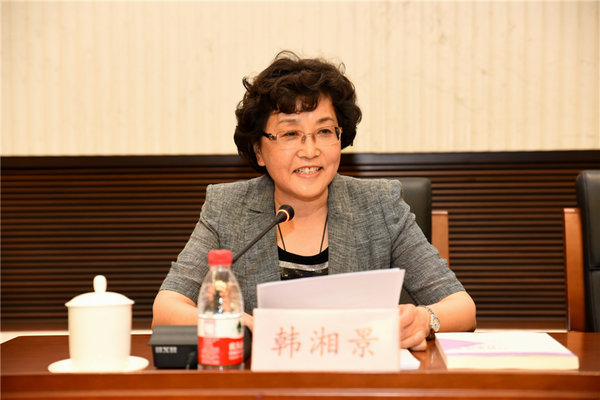 Han Xiangjing, vice-director and secretary-general of the CFCRS presides over the conference. [Women of China/Zhang Ping]
Tian Yongqing, former commissar of PLA's General Staff, delivers a speech. [Women of China/Zhang Ping]
Cheng Menghui, vice-president of the CFCRS and chief editor of the Commercial Press International Company, delivers a speech. [Women of China/Zhang Ping]
Wang Manman, general-manager of Beijing Tangsong Culture and Communication Company, delivers a speech. [Women of China/Zhang Ping]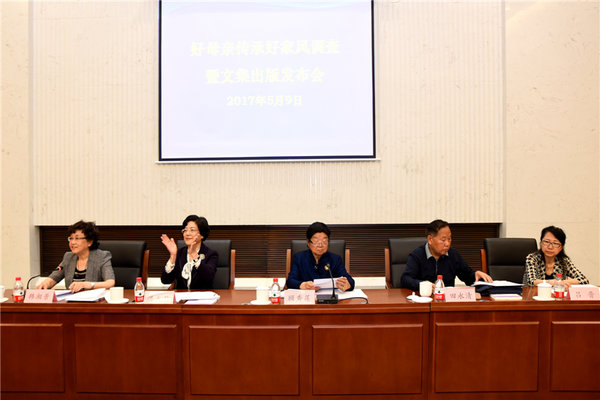 The press conference [Women of China/Zhang Ping]
Guests at the press conference. [Women of China/Zhang Ping]
(Women of China)