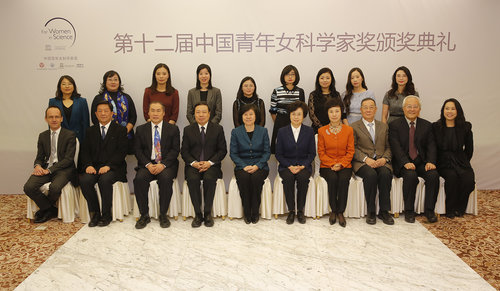 The nine Chinese women scientists honored with the title "Young Chinese Women Scientists" pose for a group photo with the officials at the ceremony in December 2015. [Provided by L'Oréal China]
For every 1,000 professors in China, women account for only 20 percent, according to an Academic Institutions Gender Issues survey, which was carried out by several famous scholars including Wang Liming, professor of Zhengjiang University; Tang Fuchou, researcher of Peking University; and Dong Yige, Doctor of Sociology candidate at Johns Hopkins University.
The survey, released online in January 2016, sampled around 30 different departments in seven universities across the country. Within two weeks, more than 1,600 netizens submitted their completed questionnaires, and over 40 academic institutions have also provided useful responses.
The survey showed that 67 percent of respondents expressed that the number of female professors in China is too small, with female professors accounting for barely 20 percent. Even in academic departments considered to be "particularly well suited for women and their development," female professors still accounted for a mere 30 percent.
Moreover, the Ministry of Education indicated that as of 2012, the number of female postgraduates was much larger than that of male students. The China Association for Science and Technology has also found that the number of female science and technology workers in China exceeded 24 million in 2013. However, in 2013, only 5 percent of women were academicians of the Chinese Academy of Sciences and the Chinese Academy of Engineering.
In addition, only 8.4 percent of those presented with Chinese Youth Tech Awards in 2013 were women.
After analyzing the reasons behind these statistics, the scholars found that women's careers are deeply affected by family responsibilities, gender discrimination, and traditional social consciousness, among other aspects.
Two key burdens on women's careers
Liu Liyun (alias), a geological scientific research worker, said, "I was once a strong and enterprising woman. However, I have been gradually changed in recent years due to the heavy burden [of having to balance] family and career." Liu added that for most families, it is inconvenient for both individuals in a relationship to stay home to take care of children. That said, women are usually the ones to choose to give up pursuing better jobs and to turn their sights on attending to their young ones.
Song Lan (alias), a researcher of the National Bureau of Oceanography, said that she has accompanied the scientific-research team to conduct research work several times before having a baby. However, once her daughter was born, in 2015, her career path changed dramatically: In order to look after her child and manage family affairs, Song had to resign herself to theoretical research work in a laboratory.
"Working women have the same work pressure as men. However, women have more pressure when it comes to attending to family members than men do," Song commented.
Jin Guangjin, a researcher of the Institute of Language Application, revealed that around 80 percent of her colleagues have received their doctorate degree, and 50 percent have become postdoctoral researchers. Nevertheless, few of them have made outstanding achievements in their field because of their having children after getting married, Jin explained.
In 1997, Jin obtained her doctorate degree in 2003 began studying for her Master of Law while already working a job at that time. Over the years, Jin has spared no efforts to develop her work in scientific research, leaving many people around her deeply impressed by her career path. But, others have pointed out, "If you were a man, you would be given more opportunities to conduct larger and more-important projects."
For this, Jin stated that she knew the subtext was that men are usually given more work opportunities than women with the same qualifications.
In this regard, Dong said that she identified with Jin. In Dong's view, subliminal gender discrimination still exists in society, impeding women from gaining a sense of achievement in their work. "These factors have somewhat hindered women from pursuing higher scientific and technological research," Dong opined.
She also concluded that men have dominated the scientific-research field for a long time, which has also exacerbated the gender discrimination imposed on women today.
"Considerate" discrimination
The findings in the survey showed that 67 percent of men do not think that academic institutions are guilty of gender discrimination, whereas 60 percent of women held the opposite view.
For 40-year-old male research workers, most of them have senior job titles in their respective units, Liu said. However, she has held the same job title for a long time, without promotion, she added.
Despite working at one of China's most authoritative geological agencies, Liu said she still feels gender is a very important aspect affecting her career development. "Women are usually assigned to do some research work in a lab, and the number of female researchers in a team is also limited," Liu remarked.
Perhaps with even more far-reaching ripple effects, the concept of "considerate discrimination" has become just another obstacle for women who have a passion for scientific research. "Some people have the mindset that carrying out field scientific investigations is inconvenient for women, and so men are offered these opportunities," Song said. This sort of "thoughtfulness" denies women of opportunities to break through in their work, Song explained.
Not as simple as a purely personal choice
Although more and more people have started paying attention to the proportion of women in scientific research, a large number of people still think women's engagement in the field is simply a personal choice.
However, Dong does not share the same view. "When I was a child, I was told that girls who achieved outstanding performance in primary school might not obtain the same high scores in middle school. This way of thinking has followed me throughout my entire educational career," Dong recalls.
"Chinese women have been imparted with many conventional ideas like this, which have subconsciously influenced their way of thinking," Dong explained.
Organizations' Joint Efforts to Help Women Researchers
Since 2009, the All-China Women's Federation (ACWF) has united 10 departments—including the Organization Department of the Central Committee of the CPC, the Ministry of Human Resources and Social Security, and the Ministry of Science and Technology—to initiate projects on promoting high-level women's development.
With the organizations' joint efforts, the number of women scientific researchers who have been funded has seen a significant increase in recent years.
Moreover, the National Natural Science Foundation put forward a preferential policy in 2010, aiming to better help the development women with the same qualifications as men in the science field.
(Source: China Women's News/Translated and edited by Women of China)