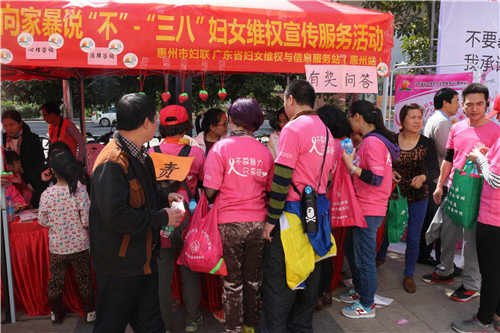 Huizhou Office of Women's Rights Protection and Information Services organizes activities to publicize information about the anti-domestic violence law. [Guangdong Women's Federation / Zeng Guimin]
After China's first law prohibiting domestic violence took effect on March 1, women's federations all over south China's Guangdong Province began publicizing information about the new regulations. Educational promotions included on and offline activities, performances, and legal counseling from lawyers and judges.
The provincial women's federation sponsored a large-scale performance for International Women's Day on March 7 in Shanwei. The federation clearly stated the support offered by the law and was promoted across the region. Since, nearly 900,000 people have participated in over 1,800 such promotional activities and events.
The federations have also held almost 2,000 seminars or training sessions that have reached over 180,000 people. Over 2 million brochures outlining the new laws and ways to safeguard against domestic violence have been distributed, along with over 800 special programs on tv on relevant topics.
On the first month of implementation of the Anti-Domestic Violence Law, courts in Guangdong issued 12 Personal Protection Orders (PPO) and public security organs issued three restraining orders. PPOs prohibit abusers from harassing, following, or contacting their victims or families.
The first PPO issued to a child in Guangdong was processed on March 16 in Guangzhou, the provincial capital. Xiaoshan (alias) was granted court protection from her mother. She currently lives with her father, as her parents are divorced.
On March 22, the first protection order between brothers was issued in Huangpu District of Guangdong.
The first warning to a husband abusing his wife was issued on March 23.
The first PPO issued in Guangdong was given to a 78-year-old mother who was beaten by her son. The son was detained for 15 days and fined 500 yuan (U.S.$77) on March 4.
Huizhou Women's Federation holds a petition to commit to resisting domestic violence. [Guangdong Women's Federation / Zeng Guimin]
Huizhou Women's Federation holds an activity to publicize the country's first national anti-domestic violence law. [Guangdong Women's Federation / Zeng Guimin]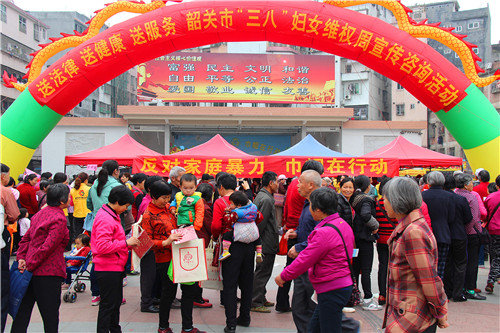 Shaoguan Women's Federation organizes various activities to encourage victims of domestic violence to use the law to fight back and say "no" to their abusers. [Guangdong Women's Federation / Zeng Guimin]
(Provided by Guangdong Women's Federation)