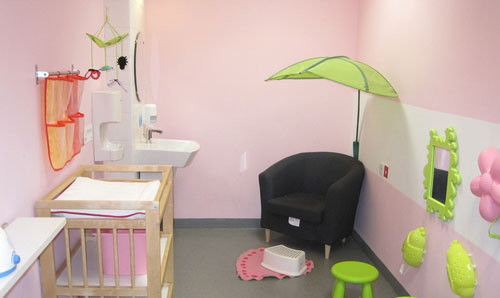 A breastfeeding room in a shopping mall in Wuxi, east China's Jiangsu Province [wxrb.com]
The people's government in Suzhou, east China's Jiangsu Province, has recently included legislation on building public breastfeeding rooms for moms into their yearly plans, China Women's News reports.
The move, promoted by the local women's federation, will help fill the legal gap in safeguarding new moms' rights and interests in feeding their infants in public areas, officials predict.
Related materials will be published in early June, the report says.
Meanwhile, 30 such rooms – each equipped with comfortable seating, a wash basin, a power socket and a cupboard – will be established in downtown Suzhou this year, including at the top 10 tourist sites, subway, railway and bus stations, libraries, museums and major shopping malls.
A survey launched in 2015 by the Suzhou Women's Federation shows that about two thirds of enterprises and public institutions in downtown areas have no such facilities, except a few shopping malls and cultural organizations.
Due to the lack of such rooms, most new moms are discouraged from going out themselves, and if they must, they choose to hurriedly breastfeed their babies in toilets or corridors.
A questionnaire among 1,600 ordinary residents, breastfeeding moms, and legal representatives and administrators of public areas shows that there is a strong demand for such facilities.
However, Xie Jianhong, president of Suzhou Women's Federation, pointed out that the current regulations on female employees' health measures only uses such words as "encouraging enterprises and public institutions with a large number of female employees to set up breastfeeding rooms".
The regulations have failed to elevate the need to the level of public responsibility, she added.
Due to this, she said the federation will take the lead in promoting the legislation, to respond to the two-child policy and improve the city's cultural image.
Zhu Min, director of the Department for Women's Rights and Interests of the federation, said the draft of the law is ongoing.
She also said that in late April, a model breastfeeding room covering about 60 square meters will be completed in the city's main women and children's activity center. The room is equipped with three separate breastfeeding compartments, platforms, a waiting area and an infants' activity zone.
In the following three years, the local government will invest 6.7 million yuan (U.S. $1 million) to establish 100 more such rooms across the city, according to the federation.
(Source: China Women's News/Translated and edited by Women of China)