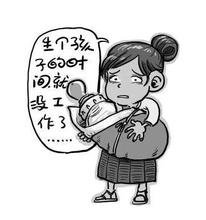 A woman is fired because she refuses to breast-feed her child in an uncurtained nursing room, while another woman is dismissed because she asks to take leave in order to prevent miscarriage. [Baidu]
A woman was fired because she refused to breast-feed her child in an uncurtained nursing room, while another woman was dismissed because she asked to take leave in order to prevent miscarriage. These are just two examples of the cases regarding female workers' labor disputes that have been released by the Dongguan Intermediate People's Court, in south China's Guangdong Province.
Judges expressed that due to a large number of female staff working in Dongguan, employers should offer special protections for women during their menstrual period, pregnancy, childbirth and breast-feeding period, according to law. For instance, employers can not arrange for a 7-month pregnant woman to do overtime or night shift work, and leave for pregnancy examinations should be permitted with full pay.
Case One: Woman Fired for Breastfeeding Wins the Lawsuit
Ms Lv has worked in Dongguan since 2004 and had a baby in June, 2012. She went back home to breast-feed every day for one hour when her baby was under 1 year old. After the company equipped the office with a nursing room, the employer demanded that Ms Lv must breast-feed there. Because there was no curtain, gate lock, table and chairs or any other basic facilities, Ms Lv refused to breast-feed there. They quarreled and ultimately the company fired Ms Lv earlier in 2013. Ms Lv sued the company for unfair dismissal.
Judges believe that one hour a day for breast-feeding is a legal right for Ms Lv when her baby is under one year old, and that it is responsible for the company to set up a convenient and private nursing room. It is obvious to see that the nursing room in this company can not meet this standard, and therefore, Ms Lv won the lawsuit.
Case Two: Woman Dismissed for Tocolysis Claims Compensation
A 35-year-old woman also surnamed Lv, who worked in a computer company in Dongguan, applied for a two-month leave without pay because of she was at risk of miscarriage on January 10, 2013. By the same token, Lv entrusted her colleague to extend another four months for her leave, and the company refused. Although Lv submitted her 'disease diagnosis certificate', the company did not approve and dismissed Lv for the reason of absenteeism of three-working days. Lv filed a lawsuit against the company.
Judges thought that employers should guarantee women's legal rights in pregnancy. There was no rational reason for the company not to approve the leave when Lv submitted the relevant materials to ask for a rest of tocolytic therapy, furthermore, the behavior of the company to dismiss Lv constitutes an illegal termination of the labor contract and eventually the company should compensate Lv 47,838 yuan (U.S.$7,654).
(Source: nandu.com / Translated by womenofchina.cn)