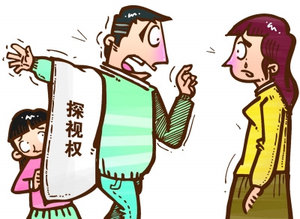 It's difficult for noncustodial parent to exercise their child visitation rights without the cooperation from the custodial parent. [Yangtze Evening Post/Zhang Ye]
Ah Ling, a 35-year-old divorced mother, who hadn't seen her son for three years, went to court to fight for her visitation rights and received an unenforceable verdict, because her ex-husband had taken their son abroad.
However, the verdict is of unique significance to the mother, for it includes their departure record. Ah Ling hopes that when she sees her son one day, she can use the verdict to prove that she really wanted to visit him, but was denied this legal right due to their departure.
Ah Ling's case is typical when it comes to visitation rights. In a divorce where one parent is awarded sole custody of the child, the noncustodial parent is usually awarded visitation rights in the divorce decree. Custody may also refer to visitation rights extended to grandparents.
Due to family conflicts and emotional entanglements, the enforcement of visitation rights can indeed become a problem without the cooperation from the person subject to enforcement.
"It's actually an emotional issue, but in reality, it appears to be feeble to resort to the law to resolve emotional issues," Chen Xiusong, Chief Judge of the Futian District People's Court in Shenzhen, in south China's Guangdong Province, which heard Ah Ling's case.
Case Study: Fighting for Unenforceable Visitation Rights to Keep Evidence
Visitation rights cases are the most difficult ones in terms of the execution, and the common barriers are that children are often taken away by custodial parents who can't even be reached via phone, said Chen.
In the above case, Ah Ling didn't seek for custody of her son, Xiaomin, when she ended her seven-year marriage with her ex-husband, because her ex-husband had better economic conditions to ensure the sound growth of Xiaomin.
Eventually, the court granted the father custody of the child, who was then 2 years old. After their divorce, Ah Ling's ex-husband and his family didn't allow her to visit Xiaomin. The divorced couple often had quarrels about visitation rights for two years, during this period Ah Ling only saw her son from a distance outside his kindergarten.
When Ah Ling later found that her ex-husband's cell phone had stopped working, she went to their house only to find it empty. In the beginning, Ah Ling thought they might have moved out, but she eventually heard from someone that her ex-husband's family had moved abroad.
On the advice of her friends, Ah Ling started a lawsuit in the Futian District People's Court. As the defendant couldn't be reached, the court had to inform Ah Ling's ex-husband by public announcement.
In the end, the court delivered the verdict that Ah Ling had the right to visit her son four times per month, which has yet to be put into effect, as it is still currently unknown where her son is.
Ah Ling clearly knew what the result was going to be, but she insists that she started the lawsuit in order to keep the verdict as evidence that she once fought for her child visitation rights.
According to Ah Ling's requirement, the verdict includes information that only Xiao's departure record can be found in the exit and entry department, but with no entrance record.
"I hope, when I encounter my child some day, he won't blame me for not having seen him for so many years. I can take out the verdict and tell him, ' Son, I have tried hard to look for you but failed to find you,'" said Ah Ling.
Forced Visitation Encounters Child's Crying
The parent and child visitation laws aim to reduce the harm to children, caused by parents' divorces, to prevent both parties from implanting hatred in to their children, said Chen.
"However, it's hard to achieve the goal in reality. When the dispute of visitation rights is brought to court, the estrangement is usually very severe, with both parties regarding each other as an enemy," he added.
Chen also met with an extreme case. A couple, Ah Ming and Ah Hong, wanted to end their marriage as soon as possible, but the custody of their five-year-old son named Xiaoqiang became the focus of their dispute.
The father, Ah Ming, took Xiaoqiang back to his hometown in central China's Hunan Province, and then the mother, Ah Hong, led a group of "thugs" to get Xiaoqiang back without Ah Ming's noticing.
Eventually, the court delivered a divorce verdict and granted the mother custody of Xiaoqiang while Ah Ming was granted visitation rights with Xiaoming four times per month.
However, after their divorce, Ah Hong didn't allow Ah Ming to see Xiaoqiang. The father then applied to court for his rights to be legally enforced.. To this end, Ah Hong agreed to allow Ah Ming to see the child once only in the court.
That visit left a deep impression on Chen. At the time, both parties led a group of "thugs" to the court respectively, guarding outside the visitation room. Ah Ming brought a great many toys and waited in the visitation room. However, as soon as Xiaoqiang arrived at the room, the small child began to sob silently and then cried aloud, refusing to call Ah Ming father.
A few minutes later, the judge had no choice but to ask the child to find her mother to soothe his emotions, but the mother stated that the visitation had ended and then took the child away.
Even if the judge helps bring about visitations, many noncustodial parents can't get along with their children, as the children are unwilling to leave custodial parents, said Chen.
In addition, the execution of visitation rights is a long-term task, and many visitation cases have repeatedly been brought to court, added Chen.
How to Ease Visitation Difficulties
Chen, who has worked on the enforcement of visitation rights for years, analyzed that the difficulties in executing visitation rights reflect how much harm parents' divorces have done to their children.
"To reduce the mental harm to children, divorced parents should be a little more liberal about the visitation issue and take a step backwards to contribute to the healthy growth of their children," said Chen.
The visitation-rights enforcement team from the Futian District People's Court has put forward four suggestions on handling the issue as follows:
--A rational visitation frequency should be reached according to the degree of their conflicts. For example, if the two parties have serious hostile sentiments, the visitation shouldn't be very frequent. In addition, the visitation site should also be agreed upon in advance to ensure the success of visitations.
--The date of paying alimony should be bonded with the visitation date, so as to impel the custodial parent to cooperate in enforcing the visitation rights.
--The interaction between communities, women's federation and other relevant departments should be enhanced.
--Both tough and soft measures should be taken to coordinate well with both parties involved. While ensuring the normal care of the children, appropriate punishment, for example detention, can be legally taken against those who refuse to cooperate so as to highlight the deterrent force of visitation rights enforcement.
(Source: Guangzhou Daily/Translated and edited by Women of China)