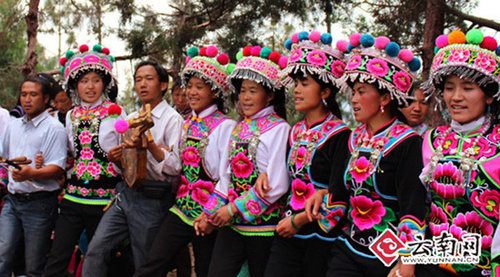 The Tianfeng Singing Gala in Xiangyuan County. [www.Yunnan.cn]
People from all ethnic groups dressed in beautiful ethnic costumes have celebrated the annual Tianfeng Singing Gala on Tianfeng Mountain in Pupeng Town, Xiangyun County, Dali Bai Autonomous Prefecture, Yunnan Province, Southwest China.
This is a part of the Xiangyun Ethnic Festival activities.
In the process of creating national unity and progressive demonstration counties, Xiangyun County has paid attention to the promotion and inheritance of ethnic cultures.
It aims to promote the outstanding traditional cultures of all ethnic groups and enhance the vitality and creativity of national culture by holding ethnic festivals.
"Pupeng Town and Dongshan Township are the largest inhabited communities of Yi ethnic people," Yi nationality cadre Luo Jihuan said.
The Tianfeng Singing Gala has come into being over the long-term hunting season of ethnic minorities. It is a major traditional festival for the local ethnic minorities and plays an important role in marriage and love.
According to tradition, on February 15th of the lunar year, young men and women will sing love songs at the 'peak of lovers' and seek a life partner.
"The ethnic festivals are also a platform for all ethnic groups to communicate," Luo said. Not only do the Yi people partake in this festival, but so do people of other ethnic groups.
By celebrating traditional festivals together, exchanges and communication among all ethnic groups have been enhanced.
There are 6 different indigenous peoples living in Xiangyun County, namely those of Han, Bai, Yi, Miao, Hui, and Lisu ethnic groups.
The county is rich in ethnic cultural festivals, including the Dumb Festival, the Torch Festival of the Yi people, the Seven Party, Partner Festival, and the Memorial Dragon Festival of the Lisu people, amongst others.
The rich and colorful ethnic festivals originate from profound ethnic culture and have played an important role in promoting national unity and promoting regional harmony and stability.
"By holding ethnic festivals, the folk culture, folk literature, costume culture and food culture of Xiangyun County ethnic minorities, especially the Yi ethnic group, can be displayed in an all-round way," said Liang Qiping, member of the Standing
Committee of the CPC Xiangyun Committee and deputy of the publicity department of the county.
"It has a positive effect on excavating and promoting traditional national culture." Liang added.
During the Mute Festival, Xiangyun County organized seminars on mute culture, intangible materialized heritage presentations, and special performances.
Through the Daying earthenware, traditional embroidery, tie dying and masks, the excellent national culture of the local Yi people was displayed in the festival, and the people of all ethnic groups could also understand and appreciate the excellent Yi ethnic culture.
"Ethnic festivals have become the carrier and platform for displaying and promoting national culture. We always attach importance to the role of national festivals in displaying excellent culture," said Liang.
Liang Qiping noted that the unique traditional festivals of all ethnic groups are an important part of national culture, reflecting the thoughts and emotions of all ethnic groups, and by holding national festivals, it has fully demonstrated the confidence of the national culture.
In an exhibition stall, many people came to purchase original ecological clothes.
"We are very happy to see that our Lisu traditional costumes and handmade souvenirs are loved by everyone," said Li Ke, of the Lisu ethnic group.
Li opened a clothing company named Ximuximi specialized in making ethnic costumes.
During each national festival, Xiangyun County opens a special shopping street and snack street to let tourists taste local food and feel local culture. It not only promotes consumption, but also promotes local tourism and trade development.
In addition to exhibiting and selling products with ethnic characteristics, Xiangyun County also actively carries out project promotion and investment attraction activities in order to obtain more cooperation.
(Source: Xinhua/Translated and edited by Women of China)