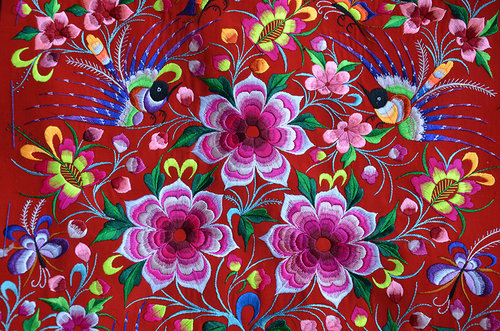 An embroidery work made by Yi women o at Zhuang and Miao Autonomous Prefecture of Wenshan, southwest China's Yunnan Province [Xinhua]
Yi embroidery has a long history dating back over 2,000 years, and has been included in China's list of intangible national cultural heritages since June 2008.
Almost all Yi women learn to embroider to decorate their folk costumes. The manipulation of different shades of colors and the natural chiaroscuro in Yi embroidery both enhance its texture and stereoscopic effect.
The art forms a realistic, bright and simple style strongly affected by the local culture of Zhuang and Miao Autonomous Prefecture of Wenshan, southwest China's Yunnan Province.
In Yi embroidery, landscapes and animals are common subjects, and flowers, birds, fish and insects are the most representative designs characterized by rich changes in the layering of the colors and the high sense of painting.
The embroidery reflects Yi people's aesthetics, their worship for nature and different local cultures. Yi embroidery conveys Chinese historical civilization and ancient information.
Before embroidering, Yi women often paint the landscapes and animals on paper and paste the pictures on embroidery cloths. The stitching of Yi embroidery is meticulously skillful, while the coloration is subtle and refined.
Yi artists are able to use multiple needlework and different types of threads to make embroideries, typically with nature and environment themes such as clouds, butterflies and flowers.
Yi embroidery is also famous for its totems of cows, tigers and egrets. The vivid images of egrets are commonly found on Yi people's straps in Yanshan county, a separate lineage of Yi. Those works reflect local people's concepts of respecting and living in harmony with the nature.
In addition, the embroidery straps are always made up of several pieces. There are multiple types of stitches on those pieces, such as Wuya stitch, Jiuya stitch and Shisanya stitch.
Some other lineages of Yi, like the Poluo and Poran people, also have their own style of embroidery, which usually depicts a mythical or religious topic.
Yi embroidery crafts include valuable works of art, as well as materials for daily use. The practice is the gem of Chinese culture, and attracts people both at home and abroad with its rich ethnic characteristics and unique heritage.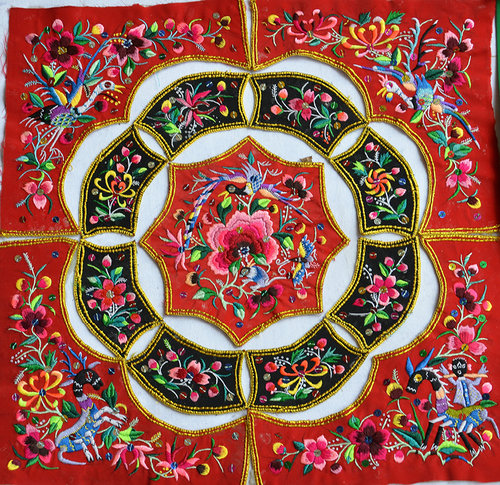 An embroidery work made by Yi women o at Zhuang and Miao Autonomous Prefecture of Wenshan, southwest China's Yunnan Province [Xinhua]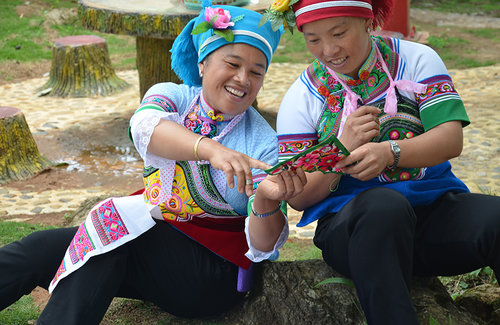 Women of Yi ethnicity make embroidery works at Zhuang and Miao Autonomous Prefecture of Wenshan, southwest China's Yunnan Province. [Xinhua]
(Source: Xinhua/Translated and edited by Women of China)