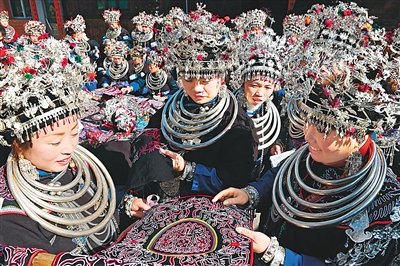 Women of Dong ethnic group do embroidery work. [People's Daily]
Dong ethnic embroidery has become more popular in recent years, according to officials in Jinping County, southwest China's Guizhou Province, who report that local sales are booming.
Jinping is currently home to over 300 women embroiderers, who are involved in four cooperatives, including several nationally- and locally-recognized cultural inheritors.
Dong ethnic embroidery, one of the national intangible cultural heritages, has been developed as the main tourism product in Jinping. The best-selling items include straps, shoes, hats, sachets and moon disks.
"The straps with vivid patterns are so exquisite," said one customer from Shanghai.
"We have entered into contracts with many companies and worked overtime to complete orders, especially during local festivals," said Long Zhengluan, a busy employee from a local cooperative.
"On the eve of Double Ninth Festival (the ninth day of the ninth lunar month in the Chinese calendar), our women embroiderers will rush to produce 300 ethnic costumes and they will be paid in cash after finishing the items," Long explained.
Luo Genxian, head of Jiuzhai Dong Cultural Tourism Company, said: "I am a member as well as the head of a cooperative. Embroidery has been commercialized and plays a big role increasing women's income and promoting Dong ethnic culture."
Chen Yunxian, 76, remarked: "We are ageing and want to pass down Dong embroidery to the younger generation. They can earn money at home if they learn Dong embroidery."
Likewise, in recent years, the local government of Qiandongnan Miao and Dong Autonomous Prefecture, also in Guizhou, has focused on developing tourism featuring the local ethnic culture and natural scenery.
(Source: People's Daily/Translated and edited by Women of China)