Tibetan women in Shashi Town of the province's Heishui County greet Yang Huazhen (front, L) during a visit on September 10. [Sichuan Daily/Yin Gang]
A 60-year-old embroidery expert from Aba Qiang Autonomous Prefecture, southwest China's Sichuan Province has made numerous visits to local villages, giving crafts-making guidance to more women of the Qiang ethnic group.
Yang Huazhen is a national-level inheritor for Tibetan weaving, tiaohua (cross-stitch) embroidery and Qiang embroidery techniques.
Nine years ago, Wenchuan County in Aba was hit by an 8.0-magnitude earthquake. After the disaster, Yang, who had mastered embroidery-making skills in her childhood, opened a company.
Later, she led ethnic women in the county to use embroidery and weaving skills, handed down in local ethnic families from generation to generation, to overcome their difficult conditions.
Under her efforts, Tibetan and Qiang embroidery has made waves beyond ethnic Qiang villages and gained appreciation from people in other parts of the country and the world.
Yang also established a Tibetan and Qiang embroidery inheritance and training institute in Wenchuan. Adopting a development model that integrated inheritors, associations and rural cooperatives, Yang has trained some 3,000 women and helped over 1,000 achieve flexible employment so far, local media reported.
In past years, Yang has traveled across local villages inhabited by Tibetan and Qiang people to spread intangible cultural techniques.
"The craft skills passed down by our ancestors are both culture and wealth. It is my greatest wish that my fellow villagers carry forward the traditional culture and become rich this way," Yang said.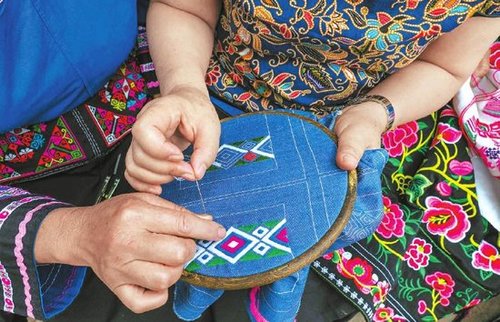 Yang Huazhen teaches a Qiang woman embroidery skills. [Sichuan Daily/Yin Gang]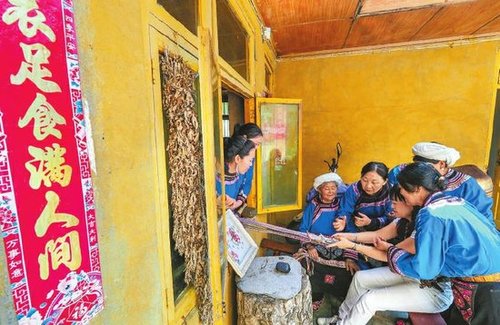 Yang Huazhen (back, C) gives embroidery guidance to Qiang women in Qiangfeng Village.[Sichuan Daily/Yin Gang]
Yang Huazhen (L1) explains the characteristics of Tibetan and Qiang embroideries at a local village. [Sichuan Daily/Yin Gang]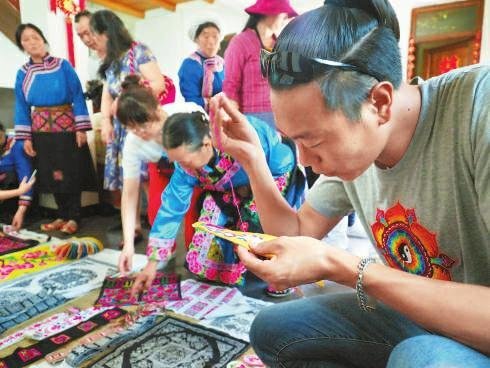 A Tibetan man learns embroidery-making skills with Yang Huazhen. [Sichuan Daily/Yin Gang]
(Source: Sichuan Daily/Translated and edited by Women of China)