He Yumiao (R2) and locals perform a traditional dance of the Naxi ethnic minority. [Women of China/Fan Wenjun]
He Yumiao from southwest China's Yunnan Province has successfully promoted the popularity of Naxi ethnic culture amongst tourists from home and abroad for years via her self-owned wedding service company.
He, 37, comes from a family of the Naxi ethnic minority in Shigu Township of Yulong County. However, she only became an enthusiast of her ethnic group's background after she graduated from college and found work at the Kunming-based Yunnan Nationalities Village.
Back then, He would become thrilled when she dressed in the traditional costume of the Naxi people and acted as a tourist guide to talk with visitors.
During her two-year stay at the Yunnan Nationalities Village, He immersed herself into an intensive study of various literary writings about the Naxi people. The impulse to return to her hometown in Lijiang and embrace more cultural elements of the topic became increasingly stronger in her heart as long as she lived in Kunming.
He grasped all available opportunities to learn more knowledge about Naxi culture when she returned. After a while, locals gave her a nickname of "female Dongba", which refers to a respectable person with wisdom in accordance with religious instruction, in recognition of her good command of relevant traditions.
Meanwhile, He proposed to set up a company, whose main business is to provide customers with an authentic wedding ceremony in the Naxi ethnic minority style according to their wishes, to better preserve her minority's cultural elements.
However, her idea met a cold response from the public, including local people, at the beginning. She had to wait for half a year to organize her first wedding ceremony. The success gave her additional confidence in the prospect of her business.
He holds talks with visiting couples and their parents about how to arrange their wedding ceremony. In addition, traditional cultural elements of Naxi people have become prerequisite for such a wedding ritual.
Right now, He's business has been accepted by locals while her company has been listed a model unit in the protection of traditional cultural property rights in Lijiang.
Moreover, she is working on the application of patent right over Naxi people's wedding costumes and banquets and the inclusion of Naxi people's wedding rituals into the list of intangible cultural heritages.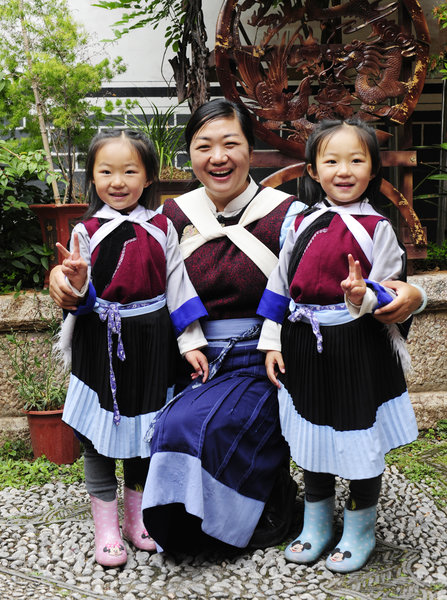 He Yumiao (C) poses with her twin daughters. [Women of China/Fan Wenjun]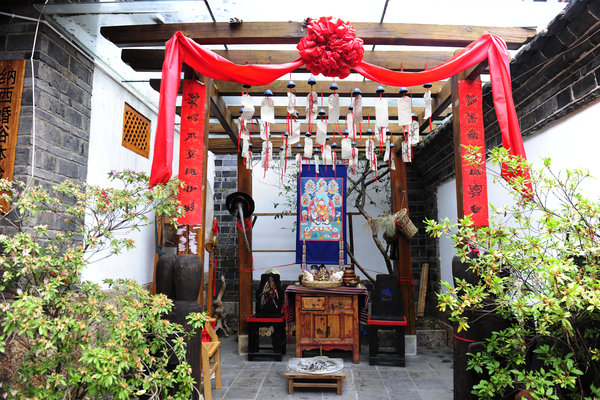 A display of tools used at the wedding ceremony of Naxi people. [Women of China/Fan Wenjun]
A display of tools used at the wedding ceremony of Naxi people. [Women of China/Fan Wenjun]
(Women of China)