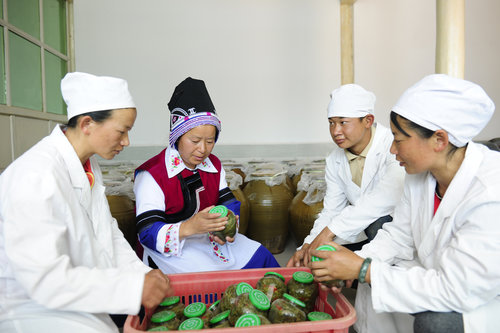 Yao (L2) talks with her employees. [Women of China/Fan Wenjun]
An entrepreneur from Yulong County in southwest China's Yunnan Province has boosted local villagers' incomes over the past five years by producing pickles flavored with a local wild herb.
Yao Yanxiang is founder of the popular pickles brand Jiuxianghe. She is also president of Jiuxianghe Agriculture Development Company in her village.
Before she entered the agriculture business, she managed a restaurant and cut her teeth in wholesale, giving her a rich experience and inspiration for ideas.
In 2011, she came up with a scheme to return to her hometown and start something new.
Within a year, she had begun to plant meilan, a vegetable that grows locally in the wild. She salted it with a traditional method passed down from elderly villagers, and sought to constantly improve her method.
After investigating the local market and making in-depth analysis, her persistence won strong support from local governments and women's federations. With their help, her company gradually got on the right track.
She registered her own trademark and obtained patents regarding her products' packaging and unique recipe.
Moreover, she developed an operating model that combined cooperatives, agriculture bases and farmers together. Nowadays, she provides villagers with free seeds and buys back their produce at a fixed price.
This not only makes the most of unused farmland in the winter but boosts locals' income by absorbing surplus laborers, too.
At present, over 200 households have become members of her cooperative. Yao also led over 120 impoverished families in nearby areas to grow the vegetable and other raw materials, generating a yield of more than 1.9 million yuan (U.S.$ 277,270) and an average increased income of 15,800 yuan (U.S.$ 2,300) per household.
As her company's production scale increased, she has developed a range of healthy products which also won great popularity.
Yao's company was recently named a demonstration base for its innovative entrepreneurship methods by provincial, municipal and county women's federations and opened a new factory of some 13,330 square meters.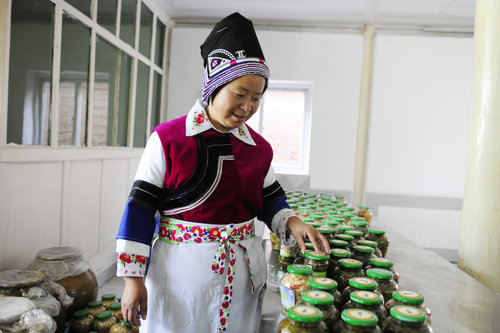 Yao Yanxiang [Women of China/Fan Wenjun]
Yao's pickles products [Women of China/Fan Wenjun]
(Women of China)