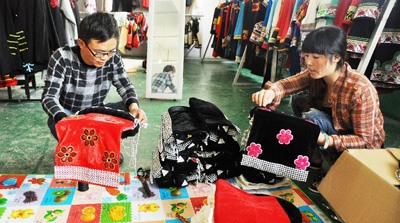 Su Tao(L) and Long Mei are choosing pattern for their design. [China Women's New]
An enterprising couple of Yi ethnic minority are among the many youngsters who have started a business in Bijie City, in southwest China's Guizhou Province.
With the development of the market economy, more and more locals like them are enthusiastically beginning start-ups.
Su Tao and Long Mei, both born in the 1970's, run a factory making a range of products including casual clothing and original costume in the Chinese style. Their headquarter is located in the Weining Guizhou Economic Development Zone Business Park, along with other small and micro-sized companies.
The pair have clear division of labor. Su is responsible for the pattern design, and Long is in charge of procurement and selling.
Under the couple's careful management practices, their products have been recognized by more and more customers. The business is prospering. In their "beloved homeland" they have realized their entrepreneurial dreams and, at the same time, promoted Chinese traditional culture.
The Yi ethnic group is distributed mainly over Yunnan, Sichuan, Guizhou provinces and Guangxi Zhuang Autonomous Region with a total population of nine million. People there are quite skilled at painting, sculpture, and embroidery.
The women are quite adept at embroidery. We can admire and appreciate their skills on their beautiful waistbands, handkerchiefs, and hanging strips. The women's reputations are greatly influenced by their level of embroidery competence.
(Source: China Women's News/Translated and edited by Women of China)