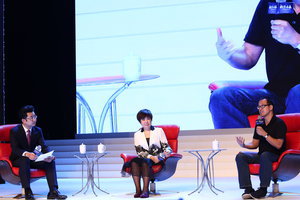 Chairperson of the New Oriental Corporation Yu Minhong (R) and Professor of the Beijing Normal University Yu Dan (C) share with attendees about their thoughts upon the implementation of domestic teaching and the operation of school education at the forum. [Zhejiang Women's Federation/Chen Ye]
A forum to further encourage public enthusiasm for the cultivation and promotion of positive family education was co-sponsored by Zhejiang Women's Federation, the Zhejiang Family Education Institute and the local branch of the New Oriental Education & Technology Group in Hangzhou, capital city of east China's Zhejiang Province, on May 16.
"As family is the first 'school' for each of us, the education we receive there will have a permanent effect on our growth. Therefore, it's of great importance for the public to jointly promote the healthy development of family teaching under current social circumstances, and the women's federations at various levels are expected to provide local households under their jurisdiction with needy guidance," said President of the Zhejiang Women's Federation Lao Hongwu at the meeting.
Meanwhile, Chairperson of the New Oriental Corporation Yu Minhong and Professor Yu Dan of Beijing Normal University were jointly invited to speak with attendees about their analysis on the implementation of family teaching in relation to schooling.
In his speech, Yu Minhong reminded parents that they should have a clear understanding that academic knowledge, and the cultivation of competence and approved characteristics, is important in both family and school education. Key factors that decide the success of children in later life are obtained through the building of positive characteristics, including perseverance, self-control, a sense of responsibility and courage, rather than just through academic learning, he added.
For her part, Yu Dan gave an address on "The Reconstruction of traditional Chinese Family Teaching", in which she said that the focus of family teaching should rest upon the building of good habits and a sense of responsibility, competence in the differentiation of right from wrong, good judgment in affairs, and the promotion amongst children of enthusiasm towards scientific and literary knowledge.
Moreover, the pair of invited guests also answered questions posed by attendees about family teaching.
(Provided by the Zhejiang Women's Federation/Chen Ye)