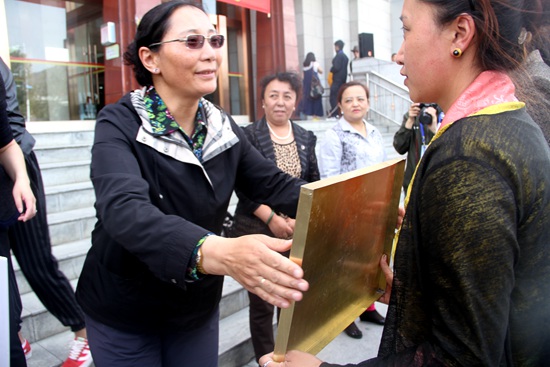 Tibet Women's Federation grants name plates to eight regional "Women's Homes". [people.com.cn/Wu Yuren]
Tibet Women's Federation granted eight regional "Women's Homes" name plates and funds of 20,000 yuan (U.S. $3,200) each to build facilities in Lhasa, capital of southwest China's Tibet Autonomous Region, on July 13.
The latest move added the number of the "Women's Homes" centers in the region to 4,000.
It was the first time for the federation to grant name plates to "Women's Homes" in state-owned and private enterprises. The eight women's homes will become role-models for such centers, unite to build better facilities and serve Tibetan women.
Since 2010, the All-China Women's Federation has been devoted to the building of women's homes in rural and urban communities, private and public organizations, industrial parks, as well as office buildings across the country.
The "Women's Homes" provide women with a wide rage of information, including rights protection, education, family education, community culture, housekeeping, marriage and so on. To date, China has more than 700,000 women's homes across the country.
The Tibet Women's Federation began building women's homes in March 2011.
Tibet is home to some of the world's most spectacular landscapes, with an average land elevation of some 5,000 meters above sea level.
Situated in the southern part of the Qinghai-Tibetan Plateau, the Tibet Autonomous Region covers a total area of 1.22 million square kilometers at the southwest frontier of China.
(Source: China Women's News, 022net.com and women.org.cn/Translated and edited by Women of China)