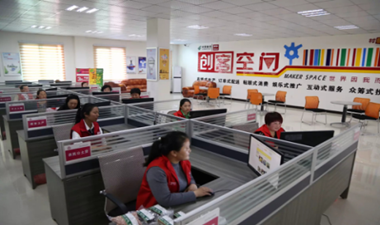 The women's federation in Xichong County, southwest China's Sichuan Province, organizes local rural women to attend a training about e-commerce. [news.cctv.com]
The women's federations at various levels in southwest China's Sichuan Province have proactively utilized the instant-messaging app WeChat of China's tech giant Tencent Holdings Ltd to provide local women with professional assistance in their engagement in housekeeping services, agricultural and animal-cultivation activities, preschool education, business startups and employment, voluntary services and e-commerce.
"The integration of internet thinking into reform is an important approach taken by local women's federations to further strengthen their relations with the public, particularly women from all walks of life," said an official from Sichuan Women's Federation to reporters from China Women's News in a recent interview.
The Construction of All-weather Grassroots Women's Federations with the Mobile App
Li Li, president of the women's federation at Sanliping Street Office in Dachuan District in Dazhou City, said that the WeChat messaging service has enabled her to be accessible for needy women at any time.
A total of 8 people have been admitted into the grassroots women's federation during its latest reform, with the aim of better serving local residents with their special skills, Li introduced in her interview. Those new entries have worked with her to build three WeChat groups, through which locals can seek professional help in their parenting activities, domestic affairs and other concerned topics.
Sichuan Women's Federation noted that the admission of more staff into grassroots women's federations plus the inclusion of internet technology has ensured they are reachable through all-weather circumstances on their mobile phones.
Offering Target Services to Needy Women Through the Mobile App
Others may have a question about how a woman can quickly find a suitable official account on the WeChat platform since there are many such accounts managed by the women's federations.
In fact, the women's federations in Sichuan have set up various WeChat accounts in accordance with the differences amongst female service objects in their age, occupations and hobbies, with the aim of providing female beneficiaries with target assistance.
For instance, a professional WeChat account, which is operated by Chengdu Women's Federation, gathers more than 500 business initiatives and over 300 tutors specialized in business startups. The WeChat account aims to help more women find their favorite programs and set up their own businesses. So far, it has become very popular amongst local women, especially female college students, who have dreams of entrepreneurship.
Rising Enthusiasm Amongst the Public in the Online Activities of the Women's Federations
"The function of the public accounts of the women's federations on WeChat and other online platforms is not only to release information but also to ensure all women can access professional assistance and guidance for the problems in their daily lives," said an official from Sichuan Women's Federation.
There are about 15,000 volunteers in Sichuan who are involved in offering the public with assistance and guidance about their various concerns on WeChat and other online platforms, the official introduced.
Thanks to those volunteers, more and more people in Sichuan have actively participated in online campaigns and other events organized by local women's federations.
In addition, a rising number of charity programs have been published on the internet, allowing the public to learn about their latest developments and interact with them.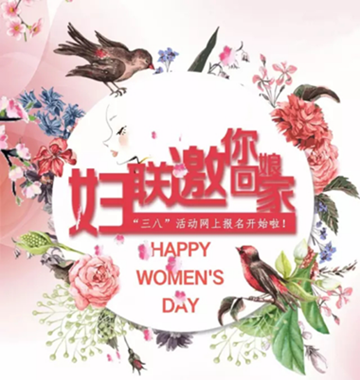 An online portal, managed by Sichuan Women's Federation, is designed to provide local women with professional guidance and assistance. [news.cctv.com]
(Source: cnwomen.com.cn/Translated and edited by Women of China)