Unprecedented floods have ravaged northeast China's Jilin Province since the end of July, creating dangerous conditions in many of its cities and counties.

The government of Jilin and the city committee of the Chinese Communist Party have held emergency meetings to organize flood fighting and relief work.
Proactive in its response to government directives, Jilin Women's Federation immediately acted to meet the city's overall flood relief requirements, arrange women's federation key work and assign tasks.
Jilin Women's Federation is in charge of worst-hit Yongji County. Jilin Women's Federation cadres have stepped forward, making themselves available at all times for flood fighting and relief work.
Meanwhile, Jilin Women's Federation has called on women's federations at all levels, including women cadres and volunteers, and also local women residents, to work with local residents at the front line of flood fighting. The federation also solicited donations and materials from women entrepreneurs and intellectual workers in Jilin City for post-disaster relief work.
There are reports that Jilin Women's Federation leaders have organized and delivered relief supplies to the worst-hit counties of Yongji, Fengman and Changyi.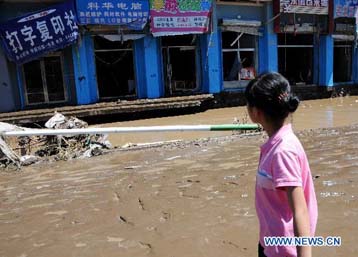 A flood-ravaged street in Kouqian Township of Yongji County, northeast China's Jilin Province on July 29, 2010. Floods swept through Yongji County killing 13 people and leaving 6 others missing and disrupting the lives of 150,000 local residents, officials said last Thursday. The overnight rainfall had reached 200 mm in Yongji County by early last Wednesday morning, making it the heaviest torrential rain on record in the county. [Wang Xiaoming / Xinhua]
The National Disaster Reduction Commission and the Ministry of Civil Affairs have elevated the national response to the disaster from level four to three. The Vice-minister of Civil Affairs Ministry has flown to the flood-stricken area to supervise disaster relief work.

The provincial government has allocated 4.8 million yuan (US$ 705,882) to rescue and relief work after rainstorms over the few days forced the evacuations of more than 215,000 in the province.
Floods have so far left 122 people dead or missing and affected the lives of 4 million in the province.
(Source: China Women's News / Translated by womenofchina.cn)