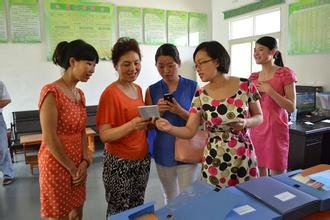 Officials from Xiangyang Women's Federation check a list of job responsibilities together. [fl.xf.cn]
Xiangyang Women's Federation in central China's Hubei Province has recently issued grassroots officials a list of job responsibilities, urging them to build closer connections with local households by following the listed items.
Specifically, as the list requires, each official should have a good rapport with five or seven women's representatives from various fields and form a team to help local women. Later, they should strengthen their bonds with at least one impoverished family and help solve their household problems. Meanwhile, officials are encouraged to play an active role in social groups and public welfare activities. Also, officials are urged to further work on surveys and interviews about women.
Such efforts were based on a series of connecting schemes between the organization and locals released since 2014, comprising of the committee of women's federations, the congress of women's representatives, and the executive committee of the organization.
Moreover, over 1,300 local women have benefited from the current scheme, further enabling officials to successfully deal with 47 proposals and 78 lawsuits about women and children, said an official.
Among 43 members of the executive committee, Fu Lifen stands out as she takes good care of Sun Hongyun, a local mid-aged woman is in mourning over the death of her child.
Besides this, Fu also develops friendships with many soldiers' families and women from ethnic minorities.
Moreover, Fu extends her kindness towards local female start-up entrepreneurs Xia Dongmei and Zhou Yuling. She also records her experience in a report about family and explores research on issues of domestic violence and family education among youths.
Another role model from Xiangyang Women's Federation is Li Qilin, who devotes herself to many welfare projects. She makes the most of her psychological consultation center under her name, offering quality services to local women and helping them with life stresses.
Moreover, Li is fond of involving community residents in reading sessions, which are frequently held both online and offline in the city and have benefited over 2,000 women so far.
Ding Manluo, president of Xiangyang Women's Federation, said that the list has proved its efficiency in instructing officials to fulfill their job responsibilities, further improving their serving abilities. Also, this effort could keep reminding grassroots officials that they represent local women, and should contribute their efforts to women's issues.
(Source: China Women's News /Translated and edited by Women of China)