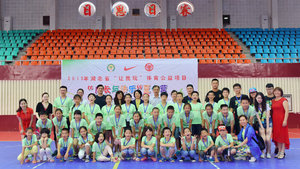 Attendees pose for a group photo during the summer camp held at the campus of the Hubei University in Wuhan, capital city of central China's Hubei Province, on July 3-8. [Hubei Women's Federation/Zhu Fen]
A group of rural "left-behind" children (those whose parents have left them alone at home to find work in large cities) were brought together, along with volunteers from the Beijing Olive International Sports Development Co. and Hubei University, to jointly attend a summer camp held at the campus of the university in Wuhan, capital city of central China's Hubei Province, on July 3-8.
The 5-day event was part of the charity sports program "Let's Me Play in 2015", which was co-sponsored by the China Children and Teenagers' Fund and the Nike, under the assistance of Hubei Women's Federation, the Hubei Civilization Office, Hubei Provincial Department of Education and the Hubei Administration of Sport to further enrich the life of rural left-behind children during the summer holiday.
The camp also aims to help them develop more social skills through playing, and hone their competence in the adjustment to a new life in the city.
During the gathering, attendees took part in contests in basketball, rugby and other sports. Meanwhile, they were also organized to pay a visit to the Museum of the Wuchang Uprising of the 1911 Revolution, the Yifu Museum at the China University of Geo-sciences, the Wuhan Botanical Garden affiliated to the Chinese Academy of Sciences, the Zhongshan Warship Museum and other scenic spots across the region.
For their part, teenage participants said that they had learned much from their attendance at the summer camp.
Wuhan has been known as the birthplace of the Xinhai Revolution, also known as the Hsin-hai Revolution, or the Revolution of 1911, which saw the overthrow the Qing Dynasty (1636-1912, China's last imperial dynasty) and the establishment of the Republic of China (1912-1949).
(Provided by the Hubei Women's Federation/Zhu Fen)