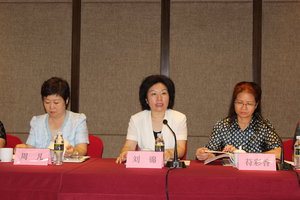 President of the Hainan Women's Federation Liu Jin (C) gives a speech at the meeting. [Hainan Women's Federation/He Hua]
Hainan Women's Federation held its 7th Session of the 6th Executive Conference in Haikou, capital city of south China's Hainan Province, on August 5.
Organizers aimed to help attendees better learn about Chinese President Xi Jinping's latest key speech and relevant instructions on the work of mass organizations; implement the key points of the Eigth Session of the 6th Plenary Conference of the Hainan Provincial Committee of the Communist Party of China (CPC); and introduce the Third Session of the 11th Executive Conference of the All-China Women's Federation (ACWF). The federation also hoped to make arrangements to carry out its work for the more innovative operation of women's organizations and the management of women's affairs.
The work of mass organizations is an important component of the CPC' directive, as they are the bridges that connect the public with the CPC, said Xi at a conference on improving the operation of mass organizations held in Beijing on July 5. It is the first time that the CPC Central Committee has held such a conference, Xi said at the time, adding that the meeting's major task was to address new problems with the Party's work on mass organizations.
At the gathering, President of the Hainan Women's Federation Liu Jin introduced that the CPC Central Committee had prioritized the work of mass organizations under the leadership of Xi since he took office in 2012 and added that the recently concluded conference in Beijing on the work of mass organizations was of great importance to their further growth under current social conditions.
Meanwhile, Liu called on staff members from women's federations at various levels to stick to the principles in their daily work, increase their competence in better serving the public's interests, and strive for higher achievements in the development of local social and economic affairs.
In addition, she recommended that local women's federations should make a closer implementation of the principle of the "three stricts and three earnests", which is a series of requirements put forwards by Xi in last March to urge officials to improve their life and work, and the CPC members to be "strict in morals, power and discipline; and honest in decisions, business and behavior".
For their part, attendees held exchanges about how to better integrate their learning there into their daily work as well.
(Provided by the Hainan Women's Federation/He Hua)